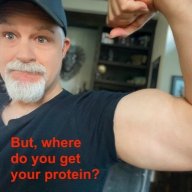 I followed the science; all I found was money.
Staff member
FASTLANE INSIDER
EPIC CONTRIBUTOR
Read Rat-Race Escape!
Read Fastlane!
Read Unscripted!
Summit Attendee
Speedway Pass
Jul 23, 2007
34,931
137,903
Not a New Year's Resolution thread, but a
mere proclamation
of what you will accomplish in 2019.
List one thing, or many.
Whatever you resolve to do.
Please keep your proclamation measurable!
Lose weight is not measurable, lose 50 lbs is!
Start a business is not measurable, sell X units is!
This time next year, we will bump this thread and see how things went!
I'll start:
I will release at LEAST one book in 2019, either under the Unscripted nameplate or other.
This might not seem to be a big proclamation, but for me it is. My history shows that I take anywhere from 3 to 5 years to write and publish something. I'd like actually take my writing time down to less than 1 year and time to market in under 6 months.
Also, if you posted in this thread AND have a progress thread, please include and link to it!!
Thank you!