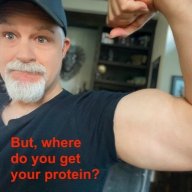 I followed the science; all I found was money.
Staff member
FASTLANE INSIDER
EPIC CONTRIBUTOR
Read Rat-Race Escape!
Read Fastlane!
Read Unscripted!
Summit Attendee
Speedway Pass
Jul 23, 2007
34,643
136,388
Big one: I went vegan in my late 40s. Every chronic ailment that I dealt with in my 40s (and spent $1000s of dollars on trying to diagnose/fix) disappeared in my 50s. Even had a scar on my face for 48 years which suddenly disappeared. Nothing dramatically changed at 48, other than dropping my Paleo, heavy protein low-carb diet to mostly plant-based, raw food and/or unprocessed food. On top of that, going plant-based has given me a great respect for all forms of sentient life which I felt I always had, but didn't live through my actions. I'd never murder a chicken, or pay someone to directly do so, but I'd have no problem eating one (and hence, indirectly paying someone for the slaughter). Going plant-based resolved this "I love animals" incongruity, a big source of cognitive dissonance in my life.
Buy a Water-Pik flosser
for your mouth and combine with daily brushing. It will save you longer cleanings and big dental expenses. Nothing worse than laying in a dental chair for 2 hours with a rubber dam strapped to your mouth.
Big one: I stopped my daily visits on social media, and it improved my life.
And I stopped watching any network news, or news put out by big-tech/big-media platforms.
I stopped paying attention to politics, whereas before, I paid attention in an effort to make my "vote" count. Voting is worthless as the morons far outweigh and outbreed any intelligent opposition. I'll never vote again for the rest of my life as the last election showed me everything I need to know about that clown show, legit or not. Voting shows I consent for one of the two political parties, which I do not. They're both corrupt organizations who maniupulate the masses for their own gain.
Big one:
Stop worrying about what other people think
, quite possibly the hardest thing to do for me outside of going plant-based. This is a big one for young people -- the less "F*cks" you give about what random strangers think (not customers) the more success and happiness you will have.
Big one:
I stop participating in organized religion
which, like politics, is mostly about control, money, and manipulation, and instead, I started focusing on spiritual growth and enlightenment. When I noticed most churches (including my large Christian Church) were more opulently appointed than my own home (imported stone, marble, granite, shimmering chandeliers) the light bulb went off. No, this doesn't mean I'm an atheist, it means I have more faith in the higher power than I do humans entrusted with bringing truth to bear about a higher-power.
Bottomline, I'm all-in on living my life
right now
, while not giving any fuel to "what may happen," "who said what," or "who might do what" a few months from now.
In a funny case of irony, I stopped going to Reddit and it improved my life. Although this thread posted above has some great gems worth a read.