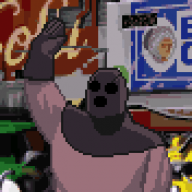 Contributor
Read Fastlane!
This is a distinction I've noticed a lot of Scripted people seem to miss; uncertainty is not the same thing as danger.
Often when Scripted people talk about 'risk' or 'danger' or implore you to 'play it safe' they're not really talking about danger, they're talking about uncertainty. Normally I find that when I do something like try something new, invest in a project, move house, anything that involves going into uncertainty, people get antsy and tell me to 'play it safe'. None of those things are dangerous, but they do involve stepping into the unknown.

The idea that danger lies in the unknown is actually an instinct, one that's increasingly out of place in our safe modern world. In our caveman past, snakes could hide in the grass and their bites could be deadly. Even if a caveman was wrong about there being a snake 99% of the time, a snake hiding in the grass even once could mean their death, so they erred on the side of caution. At the time, this was perfectly rational. I've heard that the part of the brain that evolved to deal with anomalies, hidden objects, etc. started off as a specific response to snakes. 'Danger' and 'The unknown' are closely correlated in our brains. Nowadays, however, this no longer applies. We live in the safest environments in history and we often benefit from trying things that take many harmless mistakes to learn.

Take a note yourself of what happens when you step into the unknown. If you moved house, what really happened? Was the new town you moved to much more dangerous that the old one? When you tried a new business idea, did something terrible happen or did you, at worst, learn a few lessons and move on?