So this post came across my Facebook news feed today.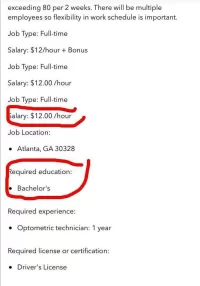 The post title was something to the effect of
"This is capitalism for you. Actual job posting..."
The comments section was full of people complaining about minimum wage, how they had jobs with low pay but high qualifications, etc.
The only thing I could think was, " god, I hope they found the sicko who held a gun to their head and forced them to apply to this job"
Everyone saw this as an example of why capitalism was horrible.
But we all know the other side of this story, being entrepreneurs.
What actually happens is this employer won't get qualified leads. They'll either get applicants who are bad fits for this position or just need a paycheck while they look for another, better paying one.
The end result is the employee will put out bad quality work and produce less profit. In the end, the employer will suffer because they did not want to pay market value for qualified employees. They will either suffer on the P&L sheets or learn their lesson and increase salary offering.
That is how capitalism works. What the comments want is socialism, where you get paid whatever some agency seems fit, not based on merit or skill level.
I know this is common sense to us, but I had to vent to people who actually get this concept.