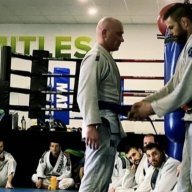 I Will Not Stop!
EPIC CONTRIBUTOR
Read Fastlane!
Read Unscripted!
Speedway Pass
It's been about 6 months now that I've been working with a web marketing and design start up.

Let me start off by saying, it's definitely been the best education and working experience I've ever had.

I've been learning and developing a bunch of skills including:

Cold call prospecting
Closing deals
How to write great sales copy
How to write great content (just started doing that a few days ago)
And in general just a lot about business and people in general.

The problem is that it's commission only and we've been getting poor results for the last few months now (I'm starting to go into debt since I can't cover my bills).

Since we don't have any inbound leads yet (we're just starting to create content), we've been cold calling potential prospects to offer them a free custom strategy, but we haven't had much luck yet.

I set a decent amount of appointments, but we don't seem to be getting any results lately. (I prospect while another guy does the closing and we split the commission).

I've just recently started making a little bit of money by creating content and a sales letter for the owner so that's been helping out a bit, but I'm not sure if I'll be able to support myself in the long term.

I know that if we keep working on content it will eventually reach a place where inbound leads and money is a little more consistent, but for now I feel stuck and I can't wait another 6 months to pay my rent.

Have you ever been in a similar situation? Did you keep grinding it out and make it work or did you have to look for more work on the side?

Would love and appreciate any advice you guys have to offer. Thanks.
Start looking for work now and get out. Do not go in debt for a job that's insane.
It is one of the reasons I don't take sales jobs that don't pay a base salary anymore.
I have some good resume and cover letter templates, shoot me a PM if you want and I'll send them over, they have served me well .