Bronze Contributor
Read Fastlane!
Read Unscripted!
Speedway Pass
User Power
Value/Post Ratio
153%
Jul 8, 2017
150
229
39
First, THANK YOU for your time.
I posted here several weeks ago with an awful, terrible book cover (
see attachment below, or, see complete thread if interested: Book Cover-- What do you think of it?)
.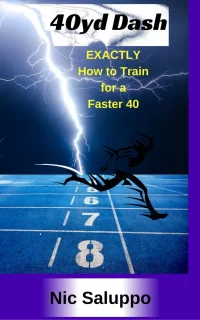 Thankfully, everyone set me straight, and I now have a much better design (
see attachment below)
.
The new cover design is leaps and bounds better than the first,
but it's not quite complete
.
What do you think this cover needs in order to be complete?
How can I make it more concise, clear, noticeable, and attractive? What about it is problematic or ambiguous? What are your impressions when you see it?
Keep in mind that my target audience is high school and collegiate (DII, DIII, NAIA, JUCO) football players. If you're unfamiliar with the 40 yard dash, it's a test used to measure sprinting speed in football players.
I'm tagging a few of you who I've previously interacted with on this forum, but don't take that as me saying I don't want your feedback if you're not tagged. The more feedback, the better!
@ljb7
@Bdenner64
@MoreVolume
@MTF
@azsno
@LifeTransformer
@jasoncuellar123
@MJ DeMarco
@BrooklynHustle
@njsinko
@DronePilot
@Andy Black
@Carol Jones
@Arun Siva
@jon.a