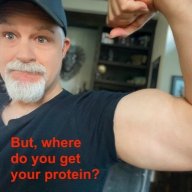 I followed the science; all I found was money.
Staff member
FASTLANE INSIDER
EPIC CONTRIBUTOR
Read Rat-Race Escape!
Read Fastlane!
Read Unscripted!
Summit Attendee
Speedway Pass
User Power
Value/Post Ratio
418%
Jul 23, 2007
35,905
150,220
There is a new metric called "User Power" here at the forum which is your ratio of LIKES to POSTS.
I high power rating (100%+) usually means you are a good contributor.
Super high (200%+) usually means great.
Less than 100%, well, you still might be new.
AND THAT IS OK.
The point is, if you have 400 posts and have a Power Rating of 23%, something is wrong.
This new feature has been implemented due to suggestions.
This new feature might help you determine who to help, and who to ignore.
PLEASE DO NOT IGNORE NEW USERS as they initially have 0 scores.
However, if someone has 400 posts and a power score of 20%, you know, you're wasting your time. AND YOUR TIME IS PRECIOUS.
And ChatGPT was instrumental in making it happen, in helping me expose the code to get it done quickly.
Some of the posts below where MOVED from various threads when this was discussed.

SOME NOTES:
Older users who haven't visited the forum in YEARS will have terrible scores due to forum platform changes.
This metric is only available on full screen viewing, mobile users will not see it.
Is copywriting lucrative how can i learn it
Low value posts like this just earned you moderation.
Going forward, any thing you post will need to be approved by a moderator. Based on your post history, this means likely nothing you post will make it to the live forum unless your post behavior changes.
You're welcome to stick around to read and learn, or better, learn to ask better questions.
If you are a teenager please understand this is a forum for adults who are dealing with some real problems, real goals, and real hardships. Time is important and sifting thru empty posts like the one quoted doesn't help broader users.
Last edited: