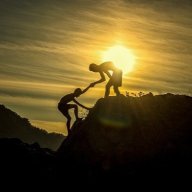 Bronze Contributor
Speedway Pass
I have been writing this blog since April 2021.

The only thing I have been focused on so far was writing and SEO.

Tbh I didn't think I'd ever reach this point, but there it is.

Now I am looking for ways to monetize it without driving people off.

Blog monetization isn't rocket science.

The ways to do so are:

- Affiliate marketing: write reviews and how-to-use articles and put your affiliate link at the end.
- Sell digital products, courses, merch, or your own physical products
- Ads
- Sell services (coaching, consulting, etc) directly on the website.
- Repurpose content into video format to post on Youtube, tiktok, etc and earn from the partner programs
- Establish a paid community
- Put the content behind a paywall
- Beg (Patreon, Buymeacoffee, etc)

The problem is that none of these seems particularly...attractive or suited for my case given the fact I don't really have any expertise in anything, and that the blog doesn't have any niche - I am just writing about things I am interested in.

I know a bit about everything and can link unexpected domains with each other, but that's about it.

My main issue is that I can't seem to find relevant ways to create value. And the value I have created so far has been left unmonetized.

It's weird, I don't really know what to do.

Thoughts?