I thought I had better pop on and give you lot a little update about my current wares.
So our lovely Prime Minister announced that none of Event industry folk are going to have any work until around March 2021.
This left us pretty screwed - with emails asking for refunds on a daily basis.
A whole family unit, no income whatsoever (apart from the lovely government grant for self employed of £2k for 6 months..)
I had been messing around with Cake Toppers for a friend who had started baking in lockdown.
We had a machine and some acrylic. (They are around £130 to buy - acrylic about £18 per sheet).
I had £48 left in my bank account. I used an empty credit card to invest in some acrylic sheets (£70) I am Debt free - so this has already paid itself back.
I designed a brand, launched an Etsy Store, took some photos and went all in via Instagram (note this is temporary until I have time to finish the shopify store).
I went all in - commenting, sharing, engaging, talking, being honest, it took a few hours a day for sure, but made me 87 sales in 16 days.
I have made relationships I would have never before, been thrown into an industry that I find somewhat interesting and managed to gain 1290 followers (I know.. its not about numbers) in 16 days too.

We have not stopped. We have been WOWED with the amazing feedback - mainly about the customer service. I engaged with people, I made them feel good about purchasing, I helped them.
Like
@MJ DeMarco
said - Find something and do it better - this is a PRIME example of that.

I've had so many messages about our order process time and quality of goods and service. Lots have slagged off other brands but I don't engage and reply about something else.
I've made £610 in 16 days. That is profit of £538. The upsell on some bits of plastic is good.(It says 56 orders - 87 sales is every single product purchased).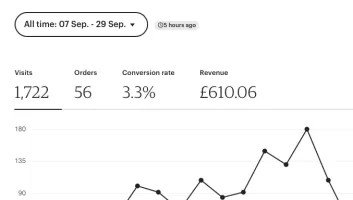 I have orders every single day and waking up to those 'chi-china' sounds from my Etsy store is such a fantastic feeling.
Our product range can expand ten fold due to the ease of producing and designing products the customer base need.
I timed at people that 'work' with the items not direct public. So the bakers of the industry.
I did a couple of collaborations, f**ked up on a few orders with packaging as we scrambled our way through order sheets BUT responded quickly and replaced breakages same day despatch to retain their custom - all which have purchased again.
I've been contacted by larger brands about wholesale, and I'm just so blown away at this whirlwind of something BRAND new to the industry and the take off.
I've spent 2 weeks designing a logo before and planning without execution and got no nowhere.
I picked a really simple name, purchased the domain, checked copyright and any other legal stuff and ran with it.
Despite being fully booked in my events business from 2021 to end of 2022 onwards, I will deal with that when the government decides we can work again, but for now it can get stuffed.
(If anyone in the UK has heard the news today, that a Lord stated in parliament that event industry workers should go and get a 'better job' - you can understand my angst).
So, there it is.
I now have to launch the shopify store and keep building the product range and brand and my hope is that it will replace my event sector income in the next 3 months.
Our most popular product costs £0.008 to make + time (approx 3 minutes). Its a winner for me.
The next move is bigger and faster machines.
Email capture and marketing and ads.
I am LOVING this journey after such a crap year, I am finally happy to say - I am HAPPY!
Don't like ads? Remove them while supporting the forum. Subscribe.