Contributor
Read Millionaire Fastlane
I've Read UNSCRIPTED
Hi everyone,
I never write but I often read the Forum,
The Millionaire Fastlane
has literally changed my life and my approach to business.
Finally I write here of my entrepreneurial project in the field of music education, which I have been dealing with for years.
In practice, I created
an innovative guitar course
which I called
"Air Strumming"
.
It's an
interactive e-book
with links to private videos and audios.
Air Strumming
solves the rhythm problem for those who start studying guitar. Its innovation lies in the
Strummigram
: a completely new rhythm diagram that I designed to allow those who follow the course to "visualize the tempo" and the rhythm of the picking, including the "ghost picking" that you have to give "in the air" (that's why
"Air Strumming "
) while you play, in order to keep the tempo and the
groove
.
The Strummigram allows you to play always with the right timing and accents because
it divides the downbeat and the upbeat into colored rectangles
(see the image below).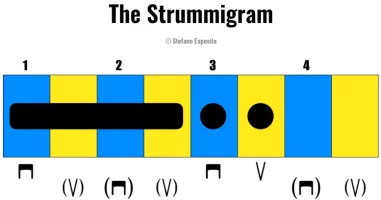 Now, I write here because maybe you all can help me with your suggestions about
how and where to promote it
.
I have a guitar-niche-focused audience on my Instagram page (@gibson.lespaul.fanpage), so the product has been known by many people but they're not buying it as I expected.
I think Air Strumming could be defined as a
CENTS
product:
C
(control) = It's my course sold on my website.
E
(entry) = The barrier is not so low, after all, it's not easy to write a guitar course.
N
(need) = The problem could lie here: this course is on the
rhythm niche
, not the solo niche, so people could think they don't need it because it's not a
"Become a Guitar Monster"
course
T
(time) = It's on an e-commerce so it can sell 24/7.
S
(scale) = It's online and worldwide.
Any suggestions?
If you want to see the e-book's landing page you can click
HERE
.
Thanks in advance for your replies
Don't like ads? Remove them while supporting the forum. Subscribe.
Last edited: