Hello guys,
My name is Mitch I'm 23 years old and I'm from Holland/The Netherlands (Europe). After years of experience importing existing products from China and reselling on Ebay to customers all over Europe I'm now ready to invent my own product. I decided to start a progress thread to let others learn from my journey and to get feedback on my actions.
I've spotted a
need/problem
point:
1.The most common crime is theft/pickpocketing.
2.
There is an increase in RFID skimming crimes.
Modern cards, such as creditcards, debitcards and access cards contain a chip and antenna for wireless communication. These RFID (Radio-Frequency Identification) or NFC (Near Field Communication) cards can be read, activated and cloned from a metre away, without you noticing.
3.People more and more are paying with a card instead of cash.
4.Cards are fragile and bend and break easily.
I have a
solution
in mind that will solve these problems.
An aluminum card holder which will block criminals from scanning your bank/credit cards and passport information. It will be a lot smaller than a regular wallet with easy access to your cards. By reducing the size of the wallet, you would reduce the risk of pickpockets targeting you. It also prevents your cards from bending and breaking.
However there is already somebody out there selling something like the product I have in mind. So I decided to read the complaints about the product so that I can improve it and invent a better product.
This is the product that they're selling: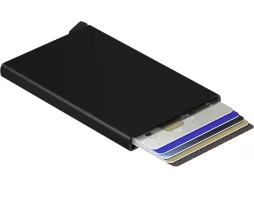 The complaints:
-The card holder holds only 6 cards (is too small).
-The card holder is too expensive relative to quality.
-The leather which is used cracks and peals within in short amount of time.
-The card holder is made with leather (a lot of people want a leather alternative because of animal cruelty etc.)
I would like to make this product
better
by making a card holder which can hold more cards, is made with a leather alternative which is more durable and is not an animal product. Also the the price would be a little lower.
If you have any questions, please don't hesitate to ask.
Mitch