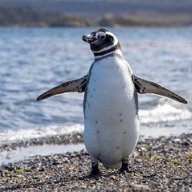 User Power
Value/Post Ratio
182%
Apr 14, 2018
17
31
Greetings
Fastlane Forum
! I joined (lurked for a little) because I would like to add value to the world and figured this is a good community to be able to learn and eventually give back. Currently I have little knowledge(gold) I can offer, but I maybe able to help with Illustrator( I am a rookie but can try and help), I know a bit of webdesign(although not nearly as close to
@Fox
), working out and nutrition and plan on adding a few more skills to my rather barren skill set. I enjoyed that on this forum you do not really have to deal with Guru's or people harassing you period.
Learn enough to be able to eventually Making a business that follows CENTS
Make friends/Mentors

Hopefully be able to add "Gold"

change the world or at the very least be able to help people
Live FREE
I Hope I can add value to you guys
-Penguin
I would like to say thank you to (tagged) for already having giving me a lot of useful information. I hope I can return the favor someday! Hope I tagged everyone the right way.
@MJ DeMarco
@Andy Black
@SinisterLex
@Fox
@JScott
@Vigilante
@biophase
@SEO Guy
Last edited by a moderator: