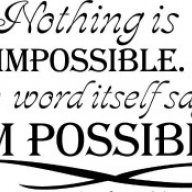 Bronze Contributor
Read Fastlane!
Read Unscripted!
Speedway Pass
that grand award goes to me.
By this October, I would be here for two years and I can't express my gratitude to this place and especially for @MjDemacro in words .
During my stay here I've grown as a person and learnt many amazing lessons of REAL LIFE thanks to this forum and Mr.DeMarco's books but in regards to making it to fastlane, I've not achieved that much.
I've just realized that everything happens in your mind.Your mind could either be your biggest ally or your worst enemy in existence.But to make that shift, some needs more time because most of us are too caught up in what's going outside of ourselves and we forget that what's inside ourselves is what matters.So for me it definitely took more than it should be.
Stepped into this place as a Sidewalker and as a victim of life.Before I found this place, I dabbled around all sort of internet marketing gigs ranging from being an affiliate in clickbank to blogging till my computer keyboard couldn't take it anymore, oh how can I forget me trying to grab $5 from innocent fiverr clients!
But all of 'em happened for a good reason.Within three years into the trade of chasing money I knew that I was doing something very wrong.So what do you think my next step was?I stopped all those stupid money chasing things and started the quest of finding how to really make money and I ignore all those "Get-rich quick" programs.
After few months my quest was completed.How? I found
TMF
book like some god-sent gift to me.Read it incessantly and again my event driven mind thought I hit the jackpot. Sidewalking mindset was still had a bigger upper hand on me and my mind. Instead of really starting something that add value to people, I started to learn various things, hoping that those things will someday going to help me to create one of the best product that has never ever been invented before.And this is where my action faking and mind numbing mental whacking got its initiation.I had enrolled in courses from edx and coursera, completed few but many are still uncompleted.The courses my scripted mind enrolled varied from marketing to selling to computer science.Heck I even enrolled in
AI
and IOT courses in edx thinking that someday I am gonna build something related to those things.For that fleeting moment it really feels great and you think to yourself "I am on my way to success".But what in fact going on is that you are just trying to ignore the real work and started to do things that gives you few hours of dopamine hit.
My action faking didn't stop there. I indeed found a problem and I went on to solve it but still my mind didn't let me to immerse myself in the process.Looking for the easy way out, my mind wandered around for the next best thing which is an another easy problem to solve and here I am still as an aspiring entrepreneur after almost a year and half.But within another year my aspiring status will be no more because now I am truly going to start a process of solving a problem I have found.
Anyway it's absolutely great that I learnt this hard way. Now I know how to action fake so whenever I started to do it again I could stop myself from doing it.Actually I am so freaking tired of action faking and circle jerking.I had enough of action faking.However I couldn't be more happy that I did it. Hadn't it for that I wouldn't learn it. I add this as another lesson into my "Life-Lesson"
So for the people who are starting out, for the love yourself,please don't do any kind of action faking.Don't do any mental whacking.Go right into the process of solving problem for peole and the ones you have .Do remember that PROCESS is what matters.Without it you can never achieve anything.Take it from this guy who did more than enough action faking that anyone could ever do
To condense what I learned from my stay at this extraordinary and rare place,
PROCESS is everything.
Don't do any mental whacking.
Goals are good only if they facilitate a process.
You aren't going any where if you are looking for that one something that helps you to hit the jackpot.
And also I learnt that entrepreneurship is a sport and it is not for everyone.It's a ajourney of learning & problem solving and those lessons turns into wisdom that can't be found in books.Even if you find you aren't going to take it seriously.
So thank you for reading and please never do any action faking.It's better to go through the long hard process than just jumping from one thing to another.
Last edited: