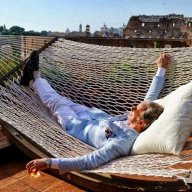 Silver Contributor
Read Fastlane!
Speedway Pass
User Power
Value/Post Ratio
277%
Nov 23, 2014
336
932
33
First of all, I want to apologize for hijacking this forum. I think this is my third thread within a week. I will keep the number down in the future. I promise!
Story short. My wife has been drawing and painting her whole life. This is what she does best and what she enjoys doing. She has an education in Fashion Design and have had her own flower shop in the past, however, drawing and painting is what I believe she can really excel in.
The issue is that it is a very saturated market. There are SO many people creating beautiful art. The whole of Instagram is packed with it. There is this prejudice about artists will always be and stay poor. I want to change that - at least for my wife.
The
pros
are that she has a real talent for drawing. At least I believe that - even though I might be biased. Also she is very hardworking and I know she will work her a$$ of to succeed. The
cons
are that she does not speak english and she does not have the entrepreneurial mindset. She wants to do what she is best at doing, and have not thought a lot about how to make money from it yet.
Art is not something I am an expert is. That is why I am reaching out to you guys, as I know there is someone around here that might have an idea or two of how she can take the next step.
Luckily for her - she has me (and vice versa of course haha). I will help her with business development and marketing, so all she has to do is what she does best - drawing and painting.
My initial idea when we stayed in Denmark, was to create a portrait business for her. Where she would draw portraits on request, and I believe that we could have created a little income for her there. However, now we are in Montenegro, and I can definately say that it will not be possible to convince people to spend around 50 dollars for a portrait here (around 5-10 % of their monthly income). So we have to think outside the box - and preferably online.
We could start growing an audience for her on Instagram. This market is just so saturated with great artists, so I am just not sure about which way to go here. I am by no means an Instagram expert. So any inputs and ideas on how we could differentiate her on IG will be great!
She only draws by hand. And this gives a lot of limitations aswell. If she could draw on the computer, I am sure that we could create her a decent income on Fiverr or Upwork. The plan is to get her some courses so she learns how to do the online thing in the future. As it is probably where the potential is!
Is there any ideas I havent though about yet, and am I missing something REALLY basic here? I am really open to any ideas. Even the most crazy ones. If she could generate 500-1000 dollars a month. Even that would be amazing. I just want her to have the feeling of being proud that she actually is doing something she loves, and is being rewarded for that.
I have attached some of her recent work, so you might get an inspiration about which kind of style she uses in her drawings.
Thank you guys for your time and your help!