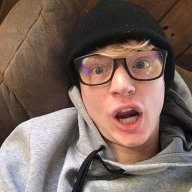 Contributor
Read Fastlane!
Read Unscripted!
User Power
Value/Post Ratio
135%
Dec 6, 2017
49
66
27
Hello All!,
Logan here! I just wanted to take a couple minutes to do a quick summary of what's happened to me in the past couple months since joining our forum. I've read both
TMF
and
UNSCRIPTED
of which I finished
UNSCRIPTED
about a month and a half to two months ago. I'll be honest...
TMF
is a stellar book (both of these books are in my Top 3 of must-read recommendations to friends and family and my personal favorites), but
UNSCRIPTED
was really the game changer for me because it describes how to make the system that leads you into TMF.
However, although
UNSCRIPTED
lit a fire under my a$$ and seriously made me feel like I could tackle the world and be the next billionaire I still never took action. I'm not entirely sure as to why I still wasn't taking action, but I believe I was caught up in the OVERWHELMING amount of information out there and I dont mean just this forum, but everywhere!
No matter what, if you do what I was doing and researching, studying, and learning all the time, but never put it into motion...then what is the purpose of acquiring your new found knowledge and skills? Anyways, about a month into joining here I subscribed to be an
INSIDERS
. I was particularly doing it only to utilize the INE section because I was struggling horribly with finding ideas even when trying to "listen" for problems, etc. So I go through INE and quite frankly I was disappointed by it's lack of INE. Another bust.
At this point I'm still burning with fuel and drive but STILL dont have a way to release any of it. That's when I say to myself "F*ck it" I'll just go with the flow for a little bit and see if I can't conjure up or pick out an idea naturally throughout daily life. I start browsing the
INSIDERS
Forum now to find what kind of juicy knowledge is throughout and that's when I stumbled upon a post by RHL. It's an
INSIDERS
GOLD thread so I'll keep the details discrete, but the post basically gave a "No excuse, man the F*ck up and do it" example of how to start hustling and grinding STAT w/no worries of any real risk.
I immediately blew through the post and absorbed the knowledge and technique like a sponge. I got in my car and ripped it to the nearest store where I knew I could execute this strategy. While barely containing my excitement I found what I needed to and I threw down a handful on hundreds and had my first inventory consisting of exactly four products. Anyways, needless to say last night I had my first sale (In-Person) on a jacket I purchased for $220. I sold it for $400! a profit of $180 or about $60/hr (minus fuel to purchase jacket down the road). Now I know I know...$180 big whoopdeedoo, but for me I FINALLY understand what it means to take action. I understand the feeling that I so often see from people who took action describe on this forum about what that first sale feels like. I understand the addiction to produce your OWN income.
I've been selling someone elses products for the last 4 years and ITS BULLSHIT!!! Ive never experienced a thrill like this. Knowing that there is no one who can stop you except yourself and that everything is a DIRECT reflection of how much effort you put into your system. Granted, this is a super small feat in regards to the bigger picture, but during this time I managed to find my INE and know that it is a WINNER.
So to sum it up, I not only got myself out of my shitty "action-faking" lifestyle, but...I made my first sale, profited nicely, and found the INE that is going to accelerate my reality into the reality I envision for myself and my family. Big thanks too to some of the big players out there on this forum that have definitely contributed to what has happened to me and what is going to happen to me when I execute on content posted by these folks @ SinisterLex, RHL, & MJ
Last edited: