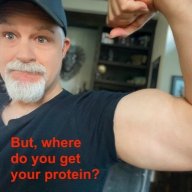 I followed the science; all I found was money.
Staff member
FASTLANE INSIDER
EPIC CONTRIBUTOR
Read Rat-Race Escape!
Read Fastlane!
Read Unscripted!
Summit Attendee
Speedway Pass
Jul 23, 2007
35,622
142,153
Sometimes I wish I could share every message I get of thanks from people who read my book and live by its principles. Many times I forget, or that person wants to remain private.
So here is a message I received last week of "thanks" from a Fastlaner who recently had his invention featured on QVC...
Check it out.
Mind you, he started when he was 17!
Set of 2 Cabinet and Pantry Shelf-Go-Round Organizers — QVC.com
Love the idea and I hope he makes a killing!
Like the idea? Go buy one!
Either way, he's DONE something.
I have no doubt this guy will make it!