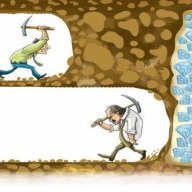 Never give up
FASTLANE INSIDER
EPIC CONTRIBUTOR
Read Fastlane!
Read Unscripted!
Speedway Pass
What are in your opinion the best Fastlane opportunities for writers? Which opportunities are exhausted and which ones may still have a bright future? Is writing still a lucrative skill or should writers consider it more of a supplemental skill?
I've been in the self-publishing industry for the past seven years. It's no longer such a gold mine as it was in the past. With no strong competition for Amazon on the horizon, it's becoming more and more of a business dependent on just one company, with thousands of competitors both corporate (traditional publishers) as well as individuals (who often flood the market with cheap, low quality ghostwritten books and manage to game the Amazon's system).
I'm wondering if writers today should still first consider going into book writing/publishing or perhaps try something else and stay away from books.
What are your thoughts on various business models for writers? How would you monetize your writing skill in the most Fastlane way possible?
The way I see it there are three main paths:
book publishing - crowded, Amazon-dependent, you can sometimes spend months working on a book only for it to fail miserably (there's no easy way to test a product before creating it),
copywriting - may become a career instead of a business, though some copywriters earn incredible amounts of money (like Jay Abraham who's technically more of a consultant),
blogging/courses/other digital products not sold as books - this requires a personal brand and narrowing your expertise to one main topic. Also, writing seems to be more of a side skill here, with marketing experience and personal branding being the primary skills needed.
Any other thoughts you have, feel free to post them here. I'd like this thread to become a regular discussion for writers on the forum.
Tagging
@ChickenHawk
,
@MJ DeMarco
,
@Bekit
.