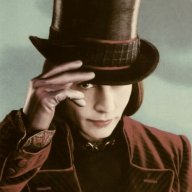 Intermediate User of the Flying Guillotine
Read Fastlane!
Read Unscripted!
Speedway Pass
User Power
Value/Post Ratio
313%
Oct 16, 2015
890
2,789
*First process thread and attempt to add some value here. Sorry if my plan is shit (I'll hone it as I go), but better to get rolling with something, and do it in a way where I'll feel accountable both to my self and the legends that contribute here, than just keep flailing wildly.*
I'm Daniel and I run solo woodworking shop where I build custom furniture and sell it exclusively on Etsy at this point.
I started this self-employment gig after being laid off from a decent good paying technical recruiter job. I got going with a 15 year old ryobi chop saw saw that I turned into a weird functioning table saw (picture attached), a back seat full of free pallets, a few YouTube videos as my tradeschool, and a relatives garden shed.
What I do is definitely not fastlane, and having read MJ's book prior to my layoff, I knew this, but I felt like it was better to make a half step towards a real business than to find another job.
Here I am, a few years later, and I'm still kicking. Sales are strong, and I'm doing as well financially as I was with the office job. I have commercial space, real tools, and I don't have to rely on a ponzi style presales strategy to build new product and pay my rent anymore.
But... This is work. Real work. More work than I ever put in for a boss. That's ok, but again, it's not fastlane. If I take a week off, I'm back at square one.
Two part plan:
1) *This week* Get 1099 subcontractors doing as much of the build work as possible without taking a huge bite out of my margins. I've dabbled in this before, so I know dudes with saws are out there looking for side work. This will free up time from my 80hr workweek that's used for business as usual, and help make part two below possible.
2) *Week of the 30th* Expand into other offline venues. Facebook stopped working for sales, and Craigslist is all bargain hunters. My stuff is too heavy, and I'm not efficient enough yet, for Amazon, so I'm planning on expanding into year round craft markets (think flea markets with better quality buyers). Lame right? Initially, I want to have space in two locals craft markets locally (operated by my wife and myself), so I can get a feel for the flow of business and what I can afford to pay and how the pay would be structured (commission vs hourly); then, expand out from there. Still definitely not fastlane at first, but another step towards doing my job without being physically present.
The plan isn't sexy, high-tech, or probably all that interesting, but let's see where it takes me.
Ps. Got a kindle copy of
Unscripted
to dig into. Been meaning too for a long while. Today is my "come back to the church" day.