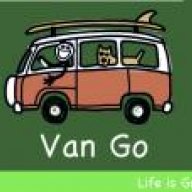 Gold Contributor
Read Fastlane!
Speedway Pass
Jul 25, 2007
6,474
1,365
60
MJ-
This is not "My Story" per se, but it's one of the things I've gone through on my journey to be a self-made millionaire.
If it makes more sense to move this to a different forum, please do!
-Russ H.
"I haven't figured out how to keep my income over $20K. It's like some mental block . . ."

I can totally relate. Part of my journey to become wealthy has meant conquering my fear of zeros.

An example, on a personal level:

$5,000 is not scary to me.

$5,000,000,000

is

scary!

What's the difference between $5,000 and $5,000,000?

Just 3 ZEROs.

I had a heck of a time with my hourly rate over the years. I started working for minimum wage in the 1970s (single digits). By the mid 1980s, I was charging $35 for a house call, then worked up to $35 an hour by the late 80s (double digits).

By the early 90s I was charging $50/hr, then $85/hr. Still only 2 digits.

I couldn't get to $100 an hour. I had some kind of mental block with 3 digits.

So I charged $99/hr for a few years . . .

By 2002, I had made the jump to 3 digits. I charged $150/hr for my services, and was turning down more than half of the work that came in the door.

* * * * *

So you're 100% right-- Not being able to personally process $50,000 or even $5,000,000 is a mental block.

But I truly appreciate Robert Kiosaki's point that money is an idea. For too long, money was something I was scared of (still am, to some degree). My middle class upbringing makes me break out in a sweat whenever I'm looking at a deal that involves lots of digits . . .

5,000,000,000,000 . . .I'm sweating!

)

This is *my* limitation-- I just have to get past it.

As I've gotten older, I could handle more and more zeros and be comfortable. But it's taken me a while.

My digital progress:

10 years old: $5 is OK ($50 is scary)

13 years old: $50 is OK ($500 is scary

18 years old: $5000 is scary

25 years old: $50,000 is scary

34 years old: $500,000 is scary

45 years old: $5,000,000 is scary (I'm 42 now, and just typing this number scares me!)

At this rate, I'm gonna be 52 before I can handle $5,000,000 deals, and nearly 70 before I can stomach $50,000,000 without getting the heebie jeebies.

That's not good.

So I'm working at trying to see money for what it is-- an idea, if you will. The total number of digits in a deal is just that-- digits. Zeros. If I have enough experience to do due diligence and make the numbers work, 7,8,9, or even 10 digits are within my grasp (that's $1,000,000,000-- a number that I can't even relate to on a personal level right now).

So that's what I'm working on these days.

Zeros.
Update: I just turned 46. Our current loans total over $3,000,000, and our total net worth is within striking distance of $5,000,000.
So $5,000,000 is OK.
And thinking about $10,000,000 is no longer scary, so I'm actually doing better than I predicted.
But what about one more ZERO: $50,000,000?
I'm OK with $50,000,000. It's no longer
scary
for me. But it also doesn't seem
real
.
So I still have some work to do! :banana:
-Russ H.