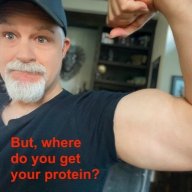 I followed the science; all I found was money.
Staff member
FASTLANE INSIDER
EPIC CONTRIBUTOR
Read Rat-Race Escape!
Read Fastlane!
Read Unscripted!
Summit Attendee
Speedway Pass
Jul 23, 2007
35,622
142,153
I'm posting this here in Your Fastlane Plan because sometimes, dead-end jobs are a necessary evil. We all have bills and obligations to pay -- sometimes dead-end *shit* jobs are just the bandaid we need to pay the bills while our greater focus is put into our efforts on business growth.

So with that said, what Dead-End *shit* jobs have you had? Do you currently have?
I was thinking back to all the crap jobs I've had and I am amazed I had the fortitude to endure it all.

My list:

1) Pizza delivery (Had to mop floors too)
2) Subway sandwich lunch driver (Lasted 3 weeks)
3) *Student* Painter (Lasted 6 weeks)
4) Charity organization can collector
5) Bus boy, Chinese restaurant (cockroaches in back!!!)
6) Wholesale flower deliverer
7) Plumbing day laborer
8) Stock boy, Sears Roebuck
9) Newspaper delivery at 3am in the morning
10) Hospital TV system auditor (lasted 2 days)

Much of these jobs I had after college graduation. :nonod:

If you find yourself in a *shit* job, take a deep breath and reassure yourself that it is only temporary. Your job is no predictor of your true potential but only a byproduct of your circumstances and your choices.

I did my best thinking while enduring these jobs -- I remember mopping floors and coming up with ideas as well as stockpiling motivation. The thoughts "I'm better than this!" builds and builds until the fire under your a$$ can no longer be tolerated and leaping into action is no longer an option, but a survival move.