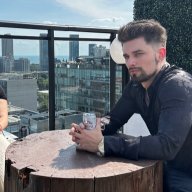 Contributor
FASTLANE INSIDER
Speedway Pass
Day 1:

Hey everyone, saw a few threads on forums of people posting their daily numbers- for example one guy set a goal to call 1000 people and documented it all (simply to get over the fear of calling, he didn't have anything to sell). Myself, I started a web development business and sales is by far my weakest area. So I'm going to do something similar. In this case, I have a business I'm struggling with and valuable skills to sell. I'd just like to say that fox is the one that motivated me to get off my a$$, stop learning web design from random sources, and make my own site and start calling people.

Call 1:
Driveway sealing
-saw one of your driver's drive by, looked up you online, no website, wondering if you wanted to talk about that
-Talk about what (probably need a script lol)
-Well since you don't have a website I was thinking we could arrange a time in a few days to see if that's something you would be interested in (definitely need a script)
-Well I have your number I'll phone you
-Well do you want to arrange a time, like day tomorrow at 10am (think I did well here, you need to arrange a specific time. If they say they'll call you they won't )
-Something about how he's not in the area
-I say it's fine we don't have to meet in person
-Ok I have your number I'll call you
-Ok... (Didn't know what to say)

Call 2:
roofing
-Ok this is roofing season now so we're very busy but call me in November and we can talk about this
-Ok.. (didn't have a good answer- after making a general script I'll add good answers to common objections like "we might need your services but not at the moment")

Call 3:
nail salon
Receptionist answers
-Could I talk to the manager or owner
-She's not here
-Ok I'll email her but if you could also pass along this info
I like how you guys have a all the information a customer could possibly need, but I know your customers are very visual so im thinking we could make some changes that would make your customers like and trust you more. (Tried to say something positive before saying the website could use some improvements but in hindsight that's probably useless to say to a receptionist)
-Sorry our owner is on vacation
-When's the best time to call
-Next week
-Ok.
(No clue what to say to "our owner is on vacation"- is there even a good response?)

Call 4:
Dog store 1 of 15, it's a franchise
-Our franchise was bought by... So I only do social media for this location (like 15 locations)
But keep us posted (why idk, it's just 1 store from 15 and the owner is the one that makes those decisions)
Will do
Thanks
(Probably nothing I could do there.. maybe I could have asked for the contact info of the people that bought this franchise so that I would have some social proof from this store when I called them)

Call 5:
Drycleaners. Was tired and saying awkward shit. Realize I need a script and hook for the first 15 seconds.

Lessons learned:

1. CALL MORE
2. Be more aggressive- I remember reading somewhere that a buyer says no on average 5 times before buying. And if they say no for a website, ask them if they want to join my mailing list for deals, contests and free advice. If not that then my Facebook page with the same stuff. --- so always get something from a call
3. Use a script (I put one together for tomorrow)
4. Call more haha- I'll try to get 20 calls tomorrow, and improve every day.