Silver Contributor
Read Millionaire Fastlane
Speedway Pass
Jul 20, 2014
397
720
300
30
If y'alls' minds are not already blown, here's a little something that will blow it. I think this just corroborates the RichHabits.net site findings.
I read the abstract and the conclusion, and it looks to me that they're concluding that a significant portion of one's success is luck/randomness. Am I reading it correctly? If so, I think it actually goes against the findings of the stats in the OP.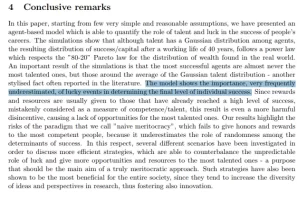 Am I misinterpreting it?
Don't like ads? Remove them while supporting the forum. Subscribe.