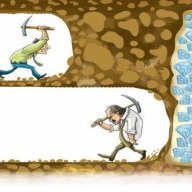 Never give up
FASTLANE INSIDER
EPIC CONTRIBUTOR
Read Fastlane!
Read Unscripted!
Speedway Pass
"We do not get to decide what works." - Dane Maxwell

"You have a place in the universe. And that place is not to make the universe be what you want. The place is for you to serve. You serve the moment, you raise the moment, you help, you bring love. You never take. You wouldn't even know what taking means. You have no preference about what that moment is. When you have no preferences, everything is beautiful. The highest life you can live is that every single moment that passes in front of you is better off because it did." - Michael A. Singer


A Quick Thought Experiment First...​

Imagine I'm giving you two businesses.

Business A is a beautiful business. It sells a product you would absolutely use. It ticks all your personal boxes for how a business needs to be set up to work well. Its marketing strategy, its brand, its story—it's so beautiful you could grab some popcorn and sit and watch how beautiful it is.

Business B is a disaster. It sells a product you think is silly. You find the way marketing strategy embarrassing. The brand is ridiculous and you have no idea who would ever buy anything from this business. In fact, it's so bad you don't even want to think about it anymore.

Without extra information, you'd surely go with business A. It seems like a perfect fit for you. There's no way whatsoever it wouldn't work.

And if the world behaved according to our own likes and dislikes, that's what would happen. But surprise! In my completely made up for the purposes of this thread example, it's the business B that's getting all the customers and business A that's struggling. Why? Because what you prefer has no impact whatsoever on whether it works. You don't get to decide which business works because you like it.


A Tough Pill to Swallow...​

As entrepreneurs, we love our ideas. We love our opinions. We love believing in our superiority, that we know better than others. But what we want and don't want has no impact on the world and it doesn't make others want or not want the same things.

As a self-published author, I wrote dozens of books. A few of them produced the vast majority of my income. And the funny part is that most of them—according to me—are some of my worst works. Yet, the world doesn't care about my opinion. The reality is that for some reason, those books appealed to people. Meanwhile, the books I loved writing so much didn't work. There's no right or wrong in business (ethics aside). It either works or it doesn't.

I'd be lying if I said I'm okay with that. There are lots of things I don't like in business (again, ethics aside), yet that work well. It's a work in progress for me, too. It's a lifelong practice. Every day, you work on letting go of your opinions to become more flexible and adapt to the changing world.

You're free not to do the things that you don't like. You don't have to use that new hot platform if you think it's stupid. You don't have to offer a new line of your products that would appeal to a new hungry demographic that you don't like. You don't have to put out a product whose design you hate, even though it seems to work for your competitors. But if you choose not to engage in any of these things, at least admit that YOU are the problem, not the market. Because again: you don't get to decide what the market wants and your preference has no impact either way.

What you like or don't like is irrelevant in business.

If it works but you don't like it, swallow your pride, let go of your opinion, and do it.

If it doesn't work but you like it, swallow your pride, let go of your opinion, and look for something else.

And if it works and you like it, STILL swallow your pride, let go of your opinion, and keep working on it while it's working. Your preference DID NOT make it work. In the end, your only responsibility is to serve your customer. Their needs may change. For now, theirs and yours preferences align but soon they may stop doing so.

If you let your own opinions stop you from doing what works, you may become that person wasting their life stubbornly working on business A. Meanwhile, you could have focused on serving the market regardless of your preferences with business B (and become rich the easier way).

P.S. The more opinionated you are, the more difficult life is in general. When you have strong likes and dislikes, you have a narrow band of experiences when you feel okay. Any situation, person, place, experience that doesn't match your opinions makes you miserable. Opening yourself to all kinds of things, without any judgments, is one of the easiest ways to make your life a whole lot more peaceful.