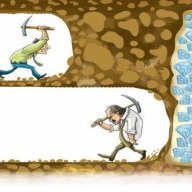 Never give up
FASTLANE INSIDER
EPIC CONTRIBUTOR
Read Fastlane!
Read Unscripted!
Speedway Pass
User Power
Value/Post Ratio
457%
May 1, 2011
6,895
31,534
Very Peculiar indeed. I'm guessing it's the style of meditation you chose to jump into (i.e following advice from Naval to "do nothing") instead of formally learning it could be a factor here. I actually do that style now sometimes but only after years of concentration training (breath,mantra etc) which is how it's always taught.
I tried different styles of meditation (breath and counting as well) and it just wasn't for me. I guess the biggest lesson is that meditation is NOT something EVERYONE must absolutely do.
I was into the whole david goggins type mindset and waking up at 4am a few years back, and now looking back, that was easily the most stressful time ever and turned me into a bit of an egomaniac, thinking I'm better than other people (just like goggins comes across as lol)
That's interesting because that's not my experience at all. I also don't think he comes across as an egomaniac thinking he's better. I know that behind the scenes he's super humble and respectful (that's what people who met him say).
I'd say the main difference is- Now I'm much more content with life and embracing what is, yet still continuously improving for the better. Before I was always looking to improve something yet never being satisfied for more than a short period regardless of what I achieved.
Here's the thing: for some reason I'm way more appreciative now than before during my meditation days. Maybe it's because I've been contemplating death pretty much every single day and that tends to put things into perspective.