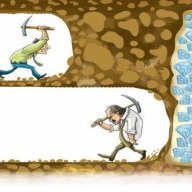 Never give up
FASTLANE INSIDER
EPIC CONTRIBUTOR
Read Fastlane!
Read Unscripted!
Speedway Pass
User Power
Value/Post Ratio
464%
May 1, 2011
7,008
32,539
Do you feel overwhelmed by the incessant mind chatter? Do you struggle to focus? Do desires rule your life? Are you dealing with recurring mental issues like anxiety, feelings of guilt, shame, fear, inadequacy, stress, etc.? Do you find it impossible to just stop and relax?
As entrepreneurs, we're all about taking action. We may mask our inner issues with endless hustle. We may tell ourselves that we can't afford to take a break because our competitors will get ahead. We may use solutions that address the symptom but not the core reason. For example, we may use technology to block sites that distract us. While we won't be able to access them, our desire to check them will be back once the obstacle is gone—or we'll find another, perhaps even worse outlet to meet the underlying need.
As entrepreneurs, we often ignore our mental health. We may even tell ourselves that our mental struggles are, in a twisted way, good for us.
Stress? That's a normal part of life, isn't it?
Anxiety? It's good for me as it keeps me alert.
Incessant mind chatter? This means I have a ton of ideas.
Deep down, we may know that there's something wrong if...
...we can't sit down with our friends and family and just enjoy being with them because we're constantly thinking of our business...
...we regularly feel anxious for an unknown reason...
...we can't focus on a single thing for more than a few minutes...
...we're stuck in an endless cycle of trying one thing, only to try another to then give it up and try yet another, never going anywhere...
...we have no clarity when making decisions...
...we're wasting time arguing over politics or anything else that is beyond our control.
And yet, despite all these worrying signs, we keep ignoring our mental health.
The last year has been very difficult for me. Grief, anxiety, stress, fear, rumination, inability to focus for more than a few minutes, judgment, and lack of acceptance have been ruling my life. I'm slowly going crazy, losing control over my mind.
I started seeking solutions to get myself out of this disquieting state. Which brings me to the topic of meditation.
I'll use the words of Naval Ravikant, a very successful entrepreneur, investor, and a brilliant philosopher, to explain the why and how:
For your entire life, things have been happening to you. Some good, some bad, most of which you have processed and dissolved, but a few stuck with you. Over time, more and more stuck with you, and they almost became like these barnacles stuck to you.

You lost your childhood sense of wonder and of being present and happy. You lost your inner happiness because you built up this personality of unresolved pain, errors, fears, and desires that glommed onto you like a bunch of barnacles.

How do you get those barnacles off you? What happens in meditation is you're sitting there and not resisting your mind. These things will start bubbling up. It's like a giant inbox of unanswered emails, going back to your childhood. They will come out one by one, and you will be forced to deal with them.

You will be forced to resolve them. Resolving them doesn't take any work—you just observe them. Now you're an adult with some distance, time, and space from previous events, and you can just resolve them. You can be much more objective about how you view them.

Over time, you will resolve a lot of these deep-seated unresolved things you have in your mind. Once they're resolved, there will come a day when you sit down to meditate, and you'll hit a mental "inbox zero." When you open your mental "email" and there are none, that is a pretty amazing feeling.

It's a state of joy and bliss and peace. Once you have it, you don't want to give it up. If you can get a free hour of bliss every morning just by sitting and closing your eyes, that is worth its weight in gold. It will change your life.
source: Jorgenson, Eric.
The Almanack of Naval Ravikant: A Guide to Wealth and Happiness
.
If you prefer it in audio, here it is:
View: https://www.youtube.com/watch?v=R2kgZ1Puye8&feature=youtu.be
Naval Ravikant recommends the following practice:
I recommend meditating one hour each morning because anything less is not enough time to really get deep into it. I would recommend if you really want to try meditation, try sixty days of one hour a day, first thing in the morning. After about sixty days, you will be tired of listening to your own mind. You will have resolved a lot of issues, or you have heard them enough to see through those fears and issues.
I decided to follow his suggestion. And then I thought: why not get some support and do it (or rather, "not do") with fellow Fastlaners.
The rules are simple:
1.
You meditate one hour a day for 60 days, ideally in the morning.
You sit down and do nothing (don't use any apps or guided meditation). Naval's suggested method is:
If thoughts come, thoughts come. I'm not going to fight them. I'm not going to embrace them. I'm not going to think harder about them. I'm not going to reject them. I'm just going to sit here for an hour with my eyes closed, and I'm going to do nothing.

No focus, no mantra, no dharma, no chakras, no Buddhas, no gurus, no gratitude, no scripture, no temple, no music, no gadgets, no apps.
2.
You meditate every day. If you skip a day, you go back to day 1.
We want to prioritize our mental health, build momentum and turn it into a daily practice. This is akin to a workout for your mind. It won't work well if you start and stop.
3.
It needs to be at least an hour (use a timer).
You can't do two 30-minute sessions or four 15-minute sessions. Once you start, you keep sitting until 60 minutes pass.
To give everyone a few days to prepare, we can start on Monday, December 14. Who's in?
----
Update after finishing the challenge on February 11th, 2021. Read my thoughts here:
Day 3 Today was the worst one in that I had the least silence, but the best in that i could make observations about my thoughts more easily. My mind went on a lot of tangents, but I'm starting to see a pattern in what they're about. Most thoughts have an emotional flavour attached to them...
www.thefastlaneforum.com
Last edited: