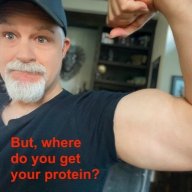 I followed the science; all I found was money.
Staff member
FASTLANE INSIDER
EPIC CONTRIBUTOR
Read Rat-Race Escape!
Read Fastlane!
Read Unscripted!
Summit Attendee
Speedway Pass
User Power
Value/Post Ratio
430%
Jul 23, 2007
36,329
156,277
Who would have thought that such Fastlane GOLD would come from a comedy website?
GOLD Jerry! GOLD!
The central thesis is this:
The world doesn't give a shit how important YOU think you are.

If you want to know why society seems to shun you, or why you seem to get no respect, it's because society is full of people who need things. They need houses built, they need food to eat, they need entertainment, they need fulfilling sexual relationships. You arrived at the scene of that emergency, holding your pocket knife, by virtue of your birth -- the moment you came into the world, you became part of a system designed purely to see to people's needs.
I'm asking what do you offer? Are you smart? Funny? Interesting? Talented? Ambitious? Creative? OK, now what do you do to demonstrate those attributes to the world? Don't say that you're a nice guy -- that's the bare minimum. Pretty girls have guys being nice to them 36 times a day. The patient is bleeding in the street. Do you know how to operate or not?
Because that's the step that gets skipped -- it's always "How can I get a job?" and not "How can I become the type of person employers want?" It's "How can I get pretty girls to like me?" instead of "How can I become the type of person that pretty girls like?" See, because that second one could very well require giving up many of your favorite hobbies and paying more attention to your appearance, and God knows what else. You might even have to change your personality.

"But why can't I find someone who just likes me for me?" you ask. The answer is because humans need things. The victim is bleeding, and all you can do is look down and complain that there aren't more gunshot wounds that just fix themselves?

Full story...
6 Harsh Truths That Will Make You a Better Person | Cracked.com
Thanks to RealOG for the FB post.