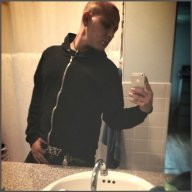 Legendary Contributor
EPIC CONTRIBUTOR
Read Fastlane!
Read Unscripted!
Speedway Pass
Formal education won't make you a multi-millionaire, but statistically the difference in income is between degree holders and non-degree holders is pretty substantial. There was a part in
Unscripted
kind of making fun of headlines implying that college grads are worth more in the marketplace. These stats are true. The ones in that study may have been started in 1970, but these are current:
The difference between happiness is pretty substantial too.
And don't get me wrong.. I get the point. Higher education most likely won't make you a multi-millionaire while self-education will. But the right diploma will land you a nice 6-figure job in a job where you're happy and fulfilled. Not all jobs are blood, sweat and tears. There are lots of people who wake up every day fulfilled and satisfied with their work. The reason I say this is because sometimes around here I get the impression some people just believe that "Education is worthless and jobs are slavery," and yes... sometimes that's very true. But sometimes it isn't.
If we look at the data, happiness and income has an interesting relationship. It is related but the correlation plateaus at around 100K.
Here Is The Income Level At Which Money Won't Make You Any Happier In Each State | HuffPost
This Is How Much Money You Need to Be Happy, According to Science
But even aside from that, I found college classes to be enriching and really changed my perspective on a lot of things. Logical rhetoric, the scientific method, literature. And I get the Fastlane approach. The point is to break free from the script and think for yourself. But college can be a pretty decent way to earn a good living. Will it get you a few Ferraris? Probably not. But it can easily get you that beautiful Mercedes you like.
See, people often forget why people go to college. You go to college to learn a marketable skill. If you learn engineering, you now have a skill that's more valuable than flipping burgers. If you learn to be a doctor, you can now save lives which people will obviously pay you for. Or maybe you skip college to become an electrician. You can still make a good 75K/yr beaus you have a marketable skill. A lot of you guys have opted out of both of those and learned advertising, and business management, which are also marketable skills. It's all really the same thing. People pay you for the service you provide.
There's a passage in Ca$hvertising that I think sums this up nicely.
If for some wacky reason you wanted to build your own light bulb, instead of spending years duplicating Edison's thousands of failed experiments, wouldn't it be wiser to read his lab notes and see how he did it? How he discovered that a carbonized bamboo filament burns slowly enough in a vacuum to produce more than 1,200 hours of reliable light?

Of course! You'd simply duplicate what he did, rapidly produce a long-lasting light bulb, and get on with your life. Whenever you study someone who was successful at a task you're preparing to attempt, you pave yourself an incredible shortcut to success.
And that's the entire point of education. To stand on the shoulders of giants. You study what great engineers have figured out so you don't have to waste years doing trial-by-error, and love it or hate it those things impact your life on a daily basis. The Samsung or Apple phone you're reading this on is the result of people who dedicated hundreds of thousands of hours to studying engineering. The Ferrari of your dreams? Some of the best automobile engineers in the world put that together. It would have been nearly impossible without a formal education.
I'm just saying this because I see some people on here take the anti-education thing a little too far.
So yes, while this may be bullshit:
In a lot of cases higher education can really help people build a pretty nice life for them and their families. It almost certainly won't make you a multi-millionaire... but in a lot of cases it's not a bad gig.
Not necessarily the path I choose to take lol, but I don't think it's fair to suggest that it destines one to. a life of misery, slavery and servitude, especially when the data suggests otherwise.
Anyway, just wanted to throw that out there.
Last edited: