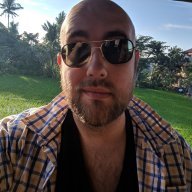 Mini Media Mogul
Read Fastlane!
Speedway Pass
Jun 16, 2012
1,478
3,237
33
While looking at the next 10 years of my life, after my current project is a bit more automated... I know that writing fiction is something I 100% want to do... but I'm not very good at writing.
And to tell you the truth,
I'm not sure I care enough about fiction to increase my skills.
When I write fiction, I don't write in the traditional way...
I flesh out characters, plots, landscapes, world geographies, factions, motivations behind conflicts.
I figure out the mechanics and rules of the fantasy magic systems within the universe. I give the world history, I set up conflicts, I explain how things work and the overall tone... but
I write like a nonfictional historical writer
...
I suck at actually writing fiction.
Believable character dialogue, story structure, chapter cliffhangers, wording... I'm just not good at any of it.
But I DO have stories to tell, a fully fleshed-out fantasy universe I want to share. This is a universe that I think will make great novels, card games, videogames, comic books.
So what's a guy to do?
I
could
dedicate a TON of my time to learning the mechanics of writing... write a dozen practice books that take place in another universe... but every year I spend refining my skills is a year taken away from something else.
I can't realistically do EVERYTHING I want to do with my universe if I spend all my time learning to write. There's no way for me to become perfect at writing, at videogame creation, boardgame creation, comic book creation...
Brand Book
So here's the idea.. and I'm not sure if this is standard procedure or something new... but hear me out.
When I worked with Fortune 500 companies, they gave us "Branding Guides". These were binders filled with the rules for creating anything that represented the brand.
Use this shade of blue if designing against a dark background, use this shade if designing against a white background, never apply motion blur to the animated logo, never dissolve away from our product shots, all music must be alternative rock with a 4/4 time signature, never display this shade of red on the same screen as our logo, etc.

They detailed every little bit about their brand worked, including what the brand stood for, values they believed in, and visual style. They could hand off the same package to new freelancers and know that their guidelines would be upheld.
I can do the same thing with my universe.

I can create a book similar to the encyclopedias that franchises like Lord of the Rings and Star Wars put out for fans.
Edit: I wouldn't create this for fans... if I did this for my universe, it would be locked behind the scenes, only available for people I hire.
I'd hire freelance artists to create depictions of my characters, buildings, species, creatures, etc. and throw them in the encyclopedia, along with maps of the world, how the science behind the magic system worked, etc.
From then, I can locate people who have written TOP TIER fantasy fan-fiction, or even fantasy ghostwriters, and hire them to write a story I outline, providing they follow the guidelines set within the book.
It's leveraging my skill as a nonfiction writer to become a usable asset. Suddenly, multiple books can be written simultaneously... Board game designers could be hired, videogame designers and comic book writers can be hired to all work on the series simultaneously, the single guidebook used as their bible as we update it to keep in line with new developments.
Would it work? Is this a technique others have done before? Is there a name for it? What do you think about this method of generating content?
Last edited: