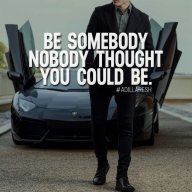 Contributor
Read Fastlane!
Speedway Pass
User Power
Value/Post Ratio
210%
Oct 16, 2017
40
84
29
Hey hey,
I'm a big believer in continuous improvement and strive to go to sleep a more intelligent, more fulfilled and a healthier individual than when I woke up. Therefore, in my free time, I'm a big fan of reading books and taking part in online courses rather than watching TV and doing other mindless shit.
I've just recently finished an online course and now on the look out for another one. Which online courses have you guys done that you feel have provided most value to you? I usually stick to Udemy, but I'm aware there are some other really good online learning sites out there too.
The course I just finished was the
NLP Practitioner course by Kain Ramsay
. I know some of NLP is classed as pseudoscience, but there is a lot of valuable information and techniques in there too that help you better understand people and how to influence their decision making.