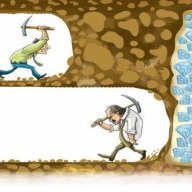 Never give up
FASTLANE INSIDER
EPIC CONTRIBUTOR
Read Fastlane!
Read Unscripted!
Speedway Pass
I read a thought-provoking article on BiggerPockets: "
Why the Massive Real Estate Empire You Think You Want Won't Give You the Life You Imagine
" and it made me think about two ways to approach the Fastlane.
In the article, author suggests to build the smallest business possible that will help you achieve your dream lifestyle (that would be Fastlane way #1 - could be something like acquiring a portfolio of, say, 25 rental properties). Once you reach it, he suggests to stop focusing on business and dedicate yourself to travel and other hobbies (including "do what you love" businesses).
He's against building an empire (that would be Fastlane way #2 - like building a huge business and selling it) because he believes it comes with too much hassle and risk. In addition to that, it can limit your freedom.
I used to believe that when you start making enough money to more than cover your living expenses with a huge margin, it would be natural to shift your attention to non-business matters. However, having achieved it, I still work on my business and expose myself to business-related stress even though I know that more money won't change much in my life. In fact, now that I'm writing it I'm wondering why I push myself so hard.
I wonder what you think about it. Do you consider this constant hunger a positive trait or do you think that eventually you should chill out and stop obsessing so much about building a business empire?
When does your hunger end? Do you have a specific end point in mind or do you plan to keep going well beyond your "enough" point for an indefinite period of time?