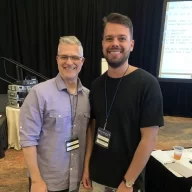 Platinum Contributor
FASTLANE INSIDER
Read Rat-Race Escape!
Read Fastlane!
Read Unscripted!
Summit Attendee
Speedway Pass
I'm reading the almanac of Naval Ravikant.
So far the business section has a big focus on software and writing content to make money, very
millionaire fastlane
style. He talks about code working for you to make money while you sleep.
As for the happiness section the one takeaway I can think off the top of my head is.
Desire is a contract you make with yourself to be unhappy until you get what you want.
Edit: I have to add this quote from the book.
The more you judge, the more you seperate yourself. You'll feel good for an instant, because you feel good about you're being better than someone. Later, you're going to feel lonely. Then, you see negativity everywhere. The world just reflects your own feelings back at you.
Last edited: