This is for the young guys here.
5 years ago I was 19, posting on this forum semi-regularly. Recently, I looked back at my old posts after not visiting the site in years and started cringing so hard. I was so full of shit and trying so hard to pretend like I knew what I was talking about.
I'd like to consider this my re-introduction.
19-22
From 19-22 I went to a nearby college and commuted from home. I went to a school that wasn't bad, but was considered much worse than what I could have gone to. I had friends with similar grades that ended up in Ivy's. I know that people i went to high school with were talking behind my back asking why the hell I chose this route.
During my last 3 semesters I worked in shit sales jobs 20-30 hours per week in order to reach my goal of no student loan debt.
With my hard work, scholarships and the generosity of my parents I graduated with absolutely no debt.
In the end, I landed a better job than all of them. I work legitimately 40 hours a week while they all work 60+, and still make more than any of them. I get free lunch every day. I get free health insurance. But most importantly, I actually like my job and people I work with.
22-24
I've been working at this tech company doing sales for the past year and a half. I've been promoted twice in that time. I made about 90k with base and commission last year not including my benefits which would be around another 10k.
A few months after landing the job I moved to NYC.
It's been a fun time and I live a good life.
I joined Equinox. I go out to eat whenever I want. I have a girlfriend and good friends. I buy whatever I want. Vacation? Done. $200 backpack? Done. Laundry service? Done.
By all means I should be happy, and I am, but still felt like something was missing.
I distinctly remember the feeling when I bought Hamlet tickets on Ticketmaster and resold them on Stubhub 5 years ago for what felt like a massive profit at the time. That's what I missed.
About a month ago I ended up buying MJ's new book which helped me remember who I am and who I want to be.
Now
I have about $30k saved up because I don't touch my commission checks.
I am moving back home because I am having problems with my landlord. To most might seem like a setback, but I did not want to put myself in a position where I desperately needed a place to live and someone to live with. Long story short, I ended up having to pay both halves of rent for one month, which thankfully was not an issue because I had savings.
This will also give me a chance to spend time with my family. My grandma is getting old and I honestly just miss my mom and dad. Time should pass fairly quickly because the holidays are coming up and I'll be taking another vacation soon.
Things I learned from work
Revenue.

Although SDRs and BDR's are comped mostly on opportunities created or meetings scheduled, at the end of the day the only way you will only get promoted is if the opportunities you sourced turn into revenue. Sales is what matters.

The power of Inbound.

Having someone go on your website and ask to speak with a salesperson is the equivalent of a high school athlete being approached by colleges and offered scholarships to join the school, or a girl walking up to you and asking you out. People think it's not scalable but it is, and it is just so much better for obvious reasons.

Outbound.

That being said, outbounding (cold calling and emailing) does work. You can't be afraid to get on the phone and talk to people if you know that what you have to say is of value to them.

Power of a good product.

I've worked shit sales job where you were basically looking for the dumbest guy you could find because that's the only person that would end up buying. You feel sleazy and dirty. Having a great product is the foundation of your business and makes the entire process easier. Don't work for a company that sells crap.

Looks are deceiving.

Most executives are genuinely not good at their jobs. They just look the part or networked effectively. Don't ever think they are better than you or smarter. They just have more experience.

Lead without leading.

This is part of Lao Tzu's Tao Te Ching. Although I'm not a manager, I am the current team lead. Since they still haven't hired a new manager after the previous one got promoted, I have been handling many of the responsibilities of a manager. And honestly, the team has been doing just fine if not better under my disgression. They keep producing day in and day out because we have the right systems in place. Just have to step in here and there, but other than that it's just maintenance. If everyday you have to force people to do work, it will not last. Create an environment where good works comes automatically.

Power of "tech".

Our company valuation although justified, is insane. Think about companies like Peloton, WeWork and even AMC with their app. None of these are actual "tech" companies but because they've found a way to implement tech into an old industry, they are valued astronomically higher.
Advice
There's nothing wrong with a job if you enjoy it, you're learning, and you know it's not the end goal.
At this age, don't commit to a girl, a job, a mortgage, or anything but yourself and your family. Give yourself options to explore and test things out.
Travel if you can. I went to London and Amsterdam this past winter. It was my first time outside of the US. I wouldn't say it was life changing, but I loved it. It was more about me being out on my own, not knowing what the hell would happen, but know that I could handle any situation that came my way.
The most important investment you can make is in your health. I use to smoke weed every day multiple times a day. I got professional help, and although I do have fun every now and then, it's no longer an issue. In the beginning it's less about doing the right things and more about stopping all of the bad things holding you back.
Value your time. My biggest gripe about moving back home is the 1 hour commute compared to the 10 minutes it took to walk to work. It improved my health because I had less stress and more time to sleep and exercise. You can't put a price on that. In addition, I use a laundry service instead of doing it myself. I fill up a bag, drop it off before work, pick it up afterwards and it's already folded and good to go. Takes less than 10 minutes compared to the hours I would have to spend doing it myself. For $25, I will gladly save 3-10 hours every month.
Read.
Meditate. Over the past 2.5 years I meditated every day. Then I recently signed up for TM (Transcendental Meditation) and realized that whatever I was doing wasn't even meditation. I instantly switched over because of how profound the experience was and what it continues to be. I don't know what to say except that this is the most life changing thing I've ever done. Without a doubt I will continue to do this the rest of my life.
Problems with my landlord. Everything needs to be in writing. You need to know the law and always have it on your side. Know what you can and can't get away with. This is what my experienced landlord did to game the system. However, the most important thing I learned from him is to never end up acting like your "enemies" no matter how much they upset you. It's not worth stooping down to their level to jeopardize your own dignity and character. Be respectful, but know you can't blindly trust others when money is involved.
Lastly, family is all you really have. When push comes to shove, who is going to help you move on short notice? Who is going to help pay your hospital bills? Who will never move on if you happened to die tomorrow? For me, I know it's my family. A kid I went to high school with recently died of a drug overdose. After a couple of weeks pretty much everyone including his girlfriend had forgotten and moved on but we all know this will haunt his parents for the rest of their lives.
Moving forward (Goals)
Get the promotion and raise to be the new SDR manager.
Travel as much as possible
Move back to the city after the New Year
Save up 50k
Build up a stronger network.
These are pretty vague at the time, I will make them more concrete after I have time to think it over.
Reading list
These are my favorite books I've read in no particular order. Just in the process of packing and moving. Happy to make recommendations.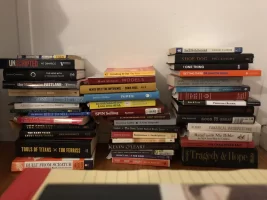 Conclusion
The reason for this post is to encourage other young adults knowing that just because you didn't start a successful business at 19 year old doesn't mean you should give up on your dreams. Think long term, keep making progress and follow your own path.
There's more than one way to the top of the mountain.