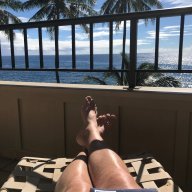 Contributor
Read Unscripted!
User Power
Value/Post Ratio
195%
Nov 26, 2017
20
39
54
Strongly dislike talking about myself. After reading this you'll more about me then 99.99% of the people stored in my phone.
Grew up Poor. Food stamps in Junior High. (Early 80's)
Wanted to become an airline pilot. Rode my bicycle to work at a machine shop after high school, cleaned the machine shop. Eventually become a machine operator. (Not good enough to be called a machinist!) Got all the pilot licenses, "earned" a 4 year business degree. (Some how "earned" a 3.8, don't know how, didn't do jack in college.) Moved ALL over Alaska for 4 years as a pilot, loved it. A few good friends died in plane crashes. Then lost my job cause I was workn' for a crook. Got the hell out of Alaska. Went to work for dirt-bag outfits (airlines). Got Married, as a guy once told me, "I really admire a man that can marry up. Boy oh boy do I admire you." Shortly after the wedding, in 2000 finally made it to the dream job at the dream airline, in 2002 saw 100k a year. Instead of blowing the money we invested in real estate. Job became more like a prison.
Daughter cried every time I packed a suitcase and went to work. Trying to get kids soccer games off, Christmas off, birthdays off, Mothers Day off, piano recitals off etc, was stressful. In 2006, 3 days after a HUGE pay cut, we signed a million dollar loan and built some townhouses. It all snowballed from there. Now on top of the stress of trying to get days off for family, time off was needed for construction. The crew meals got worse, schedules got worse, hotels worse. Every time a father would stick his head in the flight deck and ask us to give his kid a tour, I tell them how shitty the job was. "Friends don't let friends become airline pilots. If your smart, get an MBA walk into a 100k a year job out of college." ("Scripted", I now know!) I had a bad attitude and realized a drastic change was needed. Can't stand negative people, which is what I became.
Between 2006-2011 had 4 construction projects. In 2011, 11 years after getting the major airline job, I quit. Hard to give up a $200k part time job, but I was one miserable SOB. Built more units in desirable parts of Seattle. Kept most of what we built as high end executive Yuppie housing. Now I have a boat the family spends summers on, and a water front condo in Hawaii for the winters. Needless to say leaving my full time job was the best thing I ever did. Really don't need to work anymore. But that would get old.
Taking some time off to rethink my strategies and methods. Really need to stop being the General Contractor, Secretary, Book keeper, Accountant, floor sweeper, hirer, fire-er, parts go getter, permit acquirer, building code expert -- when subs don't show up I become the: painter, electrician, tile layer, parts go getter. Lastly, I am the - tell people to F*ck off person. What I really want is to be the floor sweeper/banker - Find land, get permits, hire a GC, stop by and sweep the floor once a week. Go boating, flying, snorkeling. My idea of heaven. Do four houses a year.
Continually set goals, listen to/youtube Ziglar, Rohn, Nightengale, Hardy, Og, etc. Much prefer old school values. Prefer diet beer, anonymity, and steak. Not into flashy cars, but do want a 2000's Cessna Citation.
3/4 through
Unscripted
. Love it. Thanks Mr. Demarco!
That's my life in a nutshell.