I'm in university studying engineering at the moment. Because of this, I'm limited to side hustles and short term hustles.
I had an engineering exam coming up and we are allowed to bring a double-sided A4 sheet of notes for it. As I was making mine, I was thinking about how time-consuming and annoying it was to make despite it being a great asset in an exam. And then it hit me. What if I sold copies of mine? I started working on my notes much harder and finally got it done. I typed up a post on our ENGR101 general discussion forum. The great thing about the forum was that it sent an automatic email to every ENGR101 student. Here's the post:
I was pretty proud of it. I sat back and relaxed, hitting refresh every now and then. That's when the most beautiful thing happened. I started getting orders!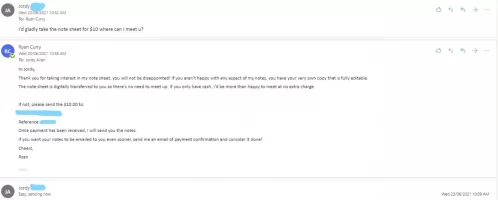 While all of this business was coming in, I remained oblivious to the destructive problem I had missed. In a moment of fatigue, I had made my redacted version for public viewing a word document! This meant anyone could easily make a copy of the document and remove the black highlights I had made! And here's the moment I realized:
My heart sank. This was the very first time I had ever created value and sold it. I learnt a valuable lesson: Make my sh*t theft proof. I was rushing to post the ad completely missed this iceberg. To say the least, this hustle ship sank like the damn titanic! The following is a bunch of posts and emails that came after the moment I realized (keep in mind that every post and reply sends an automatic email to every ENGR101 student!).
I was understandably pissed off…
But at least there are still good people in this world: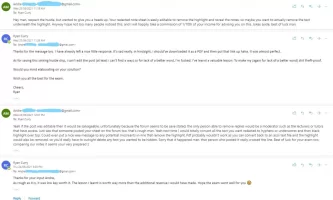 [This forum limits posts to 10 attachments - I will post the rest in the comments]