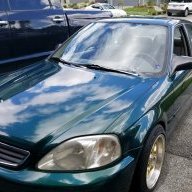 Contributor
FASTLANE INSIDER
Read Fastlane!
Read Unscripted!
Hello. I'm Jason.
Not sure how I stumbled upon The Fastlane. It was a couple of weeks ago, probably one of the"Recommended for You" books on Amazon. I looked at the Audible version and noticed that it was read by the author. The high ratings caused me to make the purchase (it certainly wasn't the title
). It's probably the best book I have read in the genre (and I have read/ listened to many).
It eerily hit home a bunch of times... I will never forget walking home to my grandmother's in Minneapolis and strolling past an exotic car dealership. This was 1985. In the window on a platform was a brand new black Lamborghini Countach. It looked like a spaceship. I told myself "one day that will be mine". Funnily enough, I blew the headgasket on my M3 convertible and they wanted $5500 to fix it. So, I bought a cheapo car from a buddy until I had more cash for the repair. So, I was literally driving around in a "fart box" Honda while listening to The Fastlane. haha
As for me, I work in surgery as a tech/ assistant. I specialized in pediatric cardiac surgery for a while. I now have a job where I float between a bunch of campuses in Seattle and make just over 100k a year without working very hard at all. However, even though I tell myself that I'm helping people, I HATE MY JOB. Even though I own a house, have a smokin hot amazing wife, and a couple of dogs, I'm not happy with the one thing that takes up the most time in my life.
I have always been an inventor/ entrepreneur. I like problem solving and making stuff. My first business was actually two businesses that I started 8 years ago. I am also a Bikram yoga instructor, and as a student there were no men's clothing options that I liked. So, I designed 4 better options. Found someone to make samples. Found someone to do small production runs. I have actually competed in yoga at the national level and my coach is a former world champion (yeah, sounds stupid, but it is actually pretty amazing, youtube it). So, I had access to really high profile yoga people for grass roots marketing. I had a "friend"(my roommate during teacher training) that worked for Diesel jeans who had some interesting ideas for a women's line. I added a few clever designs to the women's line as well. The concept was to have more fashionable, high quality, active wear for women. At the time, Lululemon made maybe 30 types of pants in 3 colors. I wanted to do maybe 6 pants in 20 colors with prints. I knew many world champion girls that traveled the globe doing seminars etc. So, I made more samples and sent them to the girls. Using their feedback, I made modifications. Then went to work on the websites. Did a calendar shoot with the girls. This was all self funded with multiple bullshit promises of capital from the "friend". Quietly launched and had a few hundred orders. My production guy in Los Angeles had not proven to be incredibly reliable. My orders were small compared to his other customers. So, I was not a priority (which makes sense). However, when I set up the CC processing there was a question that asked what I anticipated the average purchase to be. I put $150. However, my first orders were from friends that owned yoga studios and were $2000-5000. This flagged the fraud alert dept at my cc processor. As the clothes were being made to order, the customers couldn't validate that they had received their items. And my production guy took forever...... a few customers that I didn't know got tired of waiting and did chargebacks. That froze my account. Now I didn't have access to any of the CC funds to pay my producer. However, all of the product that did get shipped out to the studios sold out within 2-3 days. The "friend" never came through with any funds. My parents wouldn't give me a dime. So, I was F*cked. To add to the joy, the girl that I thought was my soulmate ghosted me. My grandmother, who was the only person I truly trusted, died unexpectedly. So, I basically said F*ck it all. I then decided that it would be a great decision to start drinking a 12 pack of PBR every day after work until I passed out. I did that for 2 years. Luckily, I met my wife and shit changed. However, I haven't done yoga since. Sad.
My wife is Filipina. So, I have been there many times. I noticed things that they didn't really have there like lingerie stores, tampons and energy drinks (talk about a recipe for a party! haha). So, I bought a bunch of Chinese lingerie, Costco tampons and energy drinks and shipped them over there. They sold like hotcakes. Looked into energy drink and tampon manufacturing to start my own brands. However, none of my relatives over there have shown the ambition to move forward. So, not wanting to move there and do everything. Those ideas died. Sad.
I have too many ideas. And I am gun shy from the yoga clothing experience. I am also kind of burnt out by people not sharing my enthusiasm. I shave my head bald and hate all the options. I bought a 3d printer and made a bunch of prototypes with more logical handle designs. I have a friend that has a small CNC machine to make aluminum versions. He's flakey. So, I looked into other manufacturing options. It was complicated. I said F*ck it.
I joined this forum to find like minded people and hopefully some live nearby. I need new friends. I am currently vacillating away. I am not sure if I should revisit the yoga clothing, the shaver, I have a couple of app ideas, a big idea for finding surgeons/ doctors based on
INSIDERS
info, a website for surgical techs to show off their tricks with contests that has corporate sponsors. In trying to prioritize/ analyze scale vs. ease of execution, I get stuck in my head and do nothing. Actually, I don't do nothing, I think of more ideas. I have hundreds, with a new one daily or weekly at the least.
So yeah, I just finished listening to
Unscripted
. Read Atomic Habits and am dying to get out of my current job. I am hoping that I will find some tools to follow through and focus without my crazy brain and past failures getting in the way. Thanks for listening. Hit me up if you are in the Seattle area. Much future success to you all.