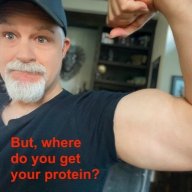 I followed the science; all I found was money.
Staff member
FASTLANE INSIDER
EPIC CONTRIBUTOR
Read Rat-Race Escape!
Read Fastlane!
Read Unscripted!
Summit Attendee
Speedway Pass
Jul 23, 2007
34,632
136,318
It's all just one big scam. It's beyond me how people can believe guys like him.
Yea, I noticed his answers to questions were not directly answered and always very tangential and lacking the kind of detail you would expect for such a traumatic event.
You'd think the biggest moment in his life would be burned in his brain, and relived day after day ... a story told over and over.
Nope, it sounds like he's making it up as he goes, as if he is trying to remember what he said 3 months ago and not contradict himself.
What's the motive to lie?
Well heck, he got on the JR show and some level of fame. Not many people get that.