I run Google Ads for a living and have been trying to grow
a new Twitter account
recently, based on practical digital marketing advice.
I'm distilling some great content down into short-form to provide as much value as possible to business owners.
The latest one is a summary of
a great article
on getting yourself from a low-traffic Shopify store to being profitable through Google Ads as quickly as possible.
I thought many on here would find this useful:
Shopify Store Owners!
@PPCKirk
put together a comprehensive, 9,000+ word guide to set your store up and perform well out of the gate on Google Shopping Ads. I've gone through it and broken it down step by step.
Step 1 - Choose & Setup Your Shopify App
In the majority of cases, it's worth keeping this step simple. He recommends using
Simprosys
.
Why?
• It's $5/month for up to 500 products
• It gives you custom options that will help.
Settings below: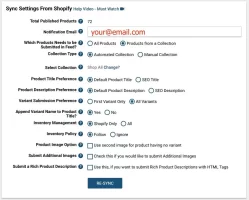 Step 2 - Create a Google Merchant Center (GMC) account
https://google.com/intl/en_us/retail/get-started/?product=merchant-cente
r
A good analogy: If the Product Feed is the food, GMC is the chef and Google Ads is the serving the food.
The food is ads...in case you missed that...
Note Your Merchant ID for connecting GMC to Simprosys
In GMC, Go to 'Manage Programs' & enable:
• Free Listings
• Shopping Ads
• Dynamic Remarketing
Under Gear icon -> Tools -> Business Info:
• Add ALL your Business info
• Under Website: Verify your URL
• Under Branding: Add your Logos & colors
• Fill in Tax & Shipping info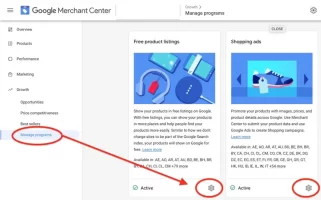 Bonus Tip:
The easiest way to verify your URL is to already have Google Analytics on your website. If you don't have it yet: Pause, add it, and come back. Now just make sure to log in to GMC with the same email address you used for Analytics. Now you can verify immediately.
Step 3 -
Set a Google Ads account up:
If you don't have one already
https://ads.google.com/home/
Use the same email as you're using for the other accounts.
Select "Switch to Expert Mode" as soon as you can.
Skip making a campaign for now.
Note your Ads CID (Top-right of the screen)
Step 4 - Link Google Ads to GMC

In GMC:
Gear -> Settings -> Linked Accounts Send a link request to your Google Ads account. You'll see your CID beside it.
Then confirm it in Google Ads:
Wrench -> Setup -> Linked Accounts -> Google Merchant Center -> Details -> Link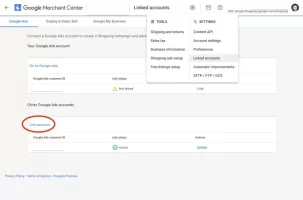 Step 5 - Choose what products to send to GMC
You need to have a clean feed in GMC to avoid future headaches.
You may want to set up a specific collection in Shopify to avoid sending duplicate products to Google.
Name it 'googleshopping' for simplicity.
Step 6 - Optimize the products in Simprosys
Navigate to Manage Products.
Here's what you want to focus on optimizing at first:
• Product Title - Put the most important keywords near the front
• Product Type - Don't use 'couch' - Use 3 Tiers e.g. Modern Sofas > Leather Luxury Sofas > Leather Recliner Sofas
• Google Product Category - Pick the closest one using Simprosys
• Description- Should contain readable, purposeful product benefits at the start
Step 7 - Deal with any product disapprovals
It's par for the course that Google may disapprove some of your products.
You can see the policies which you have violated in GMC and update your products accordingly to fix this.
Or, just remove them from your Simprosys collection.
Step 8 - Set up Conversion Tracking in Google Ads
The article
goes into great detail in this.
I also have a thread on how to do it which you can check out.
Step 9 - Setting Audiences Up
I recommend doing this through Google Analytics
Go to Admin -> Property -> Audience Definitions - > Audiences - Create New +
Add the conditions to the audience and publish it to Google Ads & Analytics.
The example below is 'All Visits - 540 Days - No Sales'.
Make the following audiences to start:
• All Visits - 540 Days - No Sales
• All Visits - 7 Days - No Sales
• Cart Abandonment - 30 Days
• Checkout Abandonment - 30 Days
• Visits with a Sale - 540 Days
• Visits with a Sale - 30 Days
Step 10 - Campaign Strategy:
We'll focus on efficiency in going live so let's use Smart Shopping Campaigns.
You need to decide the best way to segment your products:
Generally doing this by 'product type' makes the most sense.
If you sell clothes - Brand might be better.
Step 11 - Create Your Shopping Campaign
You will need to set the following:
• Budget
• Location
• Target return on ad spend (ROAS) - Very important!
• What products you want to target
and create Your Smart Shopping Campaign Ad:
You should add the following:
•
Logo
• High-Quality Images for that Product Group
• A Punchy Brand Video (if you have one)
• Headlines with the most important info
• A Detailed Description
• The Correct Product Final URL
Now it's time to go live!
I hope this helps someone improve their store. I didn't write the original article, but I do this stuff all the time so I'm confident in sharing.
Check out the
full article
for more nuance!