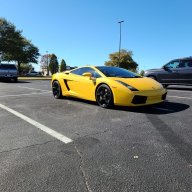 Silver Contributor
Speedway Pass
Hello everyone,
I'm a 20 year-old aspiring entrepreneur. Long-story short, I read the
millionaire fastlane
and realized how it was everything I had been saying for years. I always wondered how people spent their whole lives working for a paycheck and thought there had to be a way around it. I am currently in college majoring in communications but had a little too much "fun" and wound myself up in some trouble. Moved back home and currently on the constant look-out for a new idea to aspire. It seems I struggle mostly with coming up with ideas and/or implementing them. I'm essentially curious how people spot the right needs, come up with a solution, and then implement them. Although broke, I am sure there are ways around this and should not be used as an excuse. I often find myself in the trap of thinking I'm going to just magically stumble upon one idea that I'm going to think "this is it!"
How do you guys come up with ideas and take action upon them? Does the secret idea just magically come to you or how did you go about finding it? I appreciate all feedback and am glad to have found myself on this forum.
Thank you,
Chris