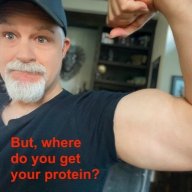 I followed the science; all I found was money.
Staff member
FASTLANE INSIDER
EPIC CONTRIBUTOR
Read Rat-Race Escape!
Read Fastlane!
Read Unscripted!
Summit Attendee
Speedway Pass
Jul 23, 2007
35,650
142,276
Public Service Announcement
It's time to address this once and for all.
It's one of the many pieces of "conventional wisdom" that is honored as a fact.
There are no dumb questions.
Uh, sorry, there are.
In the last week we've heard this here in response to some really, really poor questions.

But I thought there were no dumb questions!
There are when you consider context.
Consider this.
There's a 10 page thread that shows you how to start a hustle on Elance.
Instead of reading the 10 page thread, you ask a question that's been asked TWICE and answered TWICE.
Dumb question?
Yes, because your question
reveals
much more ABOUT YOU, than just the question itself.
It reveals, I didn't read.
It reveals, I might be lazy.
It reveals, I might have an issue comprehending.
It reveals, I might have an issue with entitlement.
It reveals, I don't want to work to solve problems, I want someone to solve them for me.
In other cases, it reveals I don't know how to use Google.
Here's another example...

How do I start a business?
Good question?
Or a bad one that shows you lack even the cursory process of due diligence or problem solving?
Ask better questions to get better answers.
And a better question shows that you've done some cursory investigation.
How about,
how do I start a business selling custom made ashtrays when Amazon won't allow me to sell them because they are tobacco related?
The latter question will engage a discussion.
The former will have you dismissed (and possibly cursed at) from the forum.
When someone says "there are no bad questions" they're simply regurgitating Scripted group-think parroted from Scripted MODEL citizens.
There are two types of questions...

1) Questions that make you look like a lazy fool
and
2) Questions that make you sound educated, but curious.
Ask away, but please, lets try to be #2.
Thank you
~ MJ