Link to the Book:
https://www.amazon.com/dp/0593083318/?tag=tff-amazonparser-20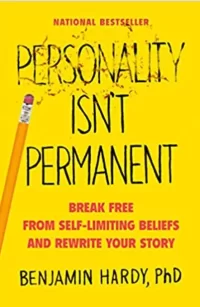 Hello,
It's me, mon_fi.
I promised I'd make a threat summarizing the book "
Personality isn't permanent
" by
Dr. Benjamin Hardy
. This book may be one of the best self-development books I have ever read and I am very excited about it. Furthermore, I think it could help a lot of people on the forum that are stuck in bad habits, scared, can't make decisions, or procrastinate.
If you enjoy the posts you're about to read, by all means,
buy the book.
I feel a bit guilty for summarizing and creating a threat based on...the work of someone else. However, I really think that what you are about to read is a game changer.
So if you feel you're getting into it, please think about the author, Dr. Hardy. It will only be small price to pay for the enormous difference it will make in your life.
I found the book randomly on Amazon. It had 5 stars, which surprised me because I had never heard of it. I directly bought it and began reading. 10 minutes into it, it was clear why people were so excited about it.
I have read many excellent personal development books. You may almost call me a junkie. However, each of them only partially solved the self-development equation.
Ray Dalio will tell you to pursue meaningful goals and relationships. Eckart Tolle will tell you to forget about your past and focus on the present. Don Ruiz will tell you to reframe your past. Tony Robbins and Susan Jeffers will tell you to "just do it". Gary Vee will tell you to work hard. Many others will give you other excellent advice.
However, none of them, to my impression at least, ever managed to build a complete solution to breaking bad habits, achieving your goals, and transcending the person you currently are to become who you want to be.
Jordan Peterson may have touched on the topic a bit, but he is still incredibly rooted in the past. When you look at his writing program, it contains two sections about the past, and only one about the future (I do recommend the writing program nonetheless, and you'll find out why soon enough).
Anyway, I am not here to criticize but to bring solutions. This forum has done so much for me I felt I had to deliver something as well.
When I finished summarizing "Personality Isn't Permanent", I had about 18 000 words. So instead of stupidly uploading the document here, I have decided to steal the structure of Lex's "Make Money Copywriting in 15 Days Or Less". I think it will be more interesting, especially since the book is action-based.
Let me explain: at the end of each chapter, the author is asking you to answer questions about your past, about your present, but most importantly, about yourself.
So, similarly to Lex's threat, you'll have the chance to "take action" and meditate on your own life by answering questions related to the theory you'll have just learnt at the end of most of the post.
The book itself is not long, but it is so dense in content that I believe this method will yield better results for transformation. Resolving traumas and coming with a clear picture of who you are is a process. So let's organize this thread as such.
We will start today. For the next 20 days or so, I'll upload one piece of the summary on a daily basis. Some days will be heavier than others. I just hope you will answer the questions and do the work, because I really think this book can be profoundly transformative. At least, it has been for me. There is therefore no reason it can't be for you too.
Side note: don't answer the questions in the threat. There are very intimate questions. You should instead answer them in writing in your journal, or talk about them with a close friend or relative.
If you're sick to be limited by your traumas, if you're willing to rewrite your own story, if you're ready to finally face difficult life events and process them so that they stop preventing you from achieving your goals, and finally, if you have a burning desire to become the person you have always wanted to be, then this tread is for you.
If not, then it's not.
The next following posts will feature a summary of each part of the book. Since we are on the
fastlane forum
, I have added some "side notes" and have taken some elements of MJ's path as an entrepeneur to illustrate the theory outlined in the book. Since we all know these examples, I thought they would be handy. I hope you don't mind, MJ.
Most of what you are about to read comes from the book, but I have also added some material from "fastlane thinking".
Ok, enough talk.
Let's dive in.
Don't like ads? Remove them while supporting the forum. Subscribe.