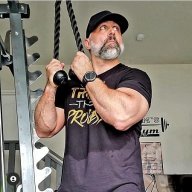 User Power
Value/Post Ratio
900%
Jan 29, 2023
1
9
Hello!
My name is James but, once past the formal stage, everyone calls me Jim.
I have been a personal trainer for over 28 years. Originally starting just to make some money after college as I decided what I was going to do with my life, I soon fell in love with it. I already had a deep passion for health and fitness, but I learned quickly how much I was rewarded (emotionally and financially) by helping others.
I originally started working as a paid employee of a new health club in Brewster, NY, making mediocre money (but a lot to me, at the time) and a lot of hours for someone else. I stayed there just about 2 years before I jumped into opening my own personal training business in Brookfield, CT. It was a grind, but it was worth it. I became one of the most recognized and sought after personal trainers in my area. Back then, I would only take 1 day off every 2 weeks. I was young, energetic, and hungry. Hungry to learn and hungry to succeed.
Fast forward a few years, and things being established. I was now taking every Sunday off and only working half days on Saturday. A big improvement to my previous life. But looking back, I was still a slave to my business. I had somewhat of a famine mentality and was uncomfortable with the thought of not working. But business was great. I stayed booked up. Money was good. And life was good.
But after about 15 years, I found myself becoming content. Comfortable. These are not qualities I thrive with. I thrive with challenge (as long as I'm passionate about the challenge).
So just about at the 22 year mark (yes, it was a good 7 years of slow drip into being too comfortable), I upped and moved to Nashville, TN. Not on a whim. I had visited the area the year prior and for the first time in my life it was an experience where I left saying "I would love to live here." My soul felt like it belonged there. Well, just as luck would have it, my wife had a job opportunity that would mean relocating to Nashville. Hence I closed up shop and moved to Tennessee...to start all over.
Talk about a challenge!
Now I'm in a city that doesn't know me in a what I would call a young person's game. You don't have a ton of personal trainers in their mid-to-late 40's. It was the challenge I was looking for. I felt reborn again...albeit there were times I questioned my decision to move. But withing a couple of years, I had established myself and I would say right around the 3 year mark I was over-loaded with individuals seeking training with me that I was no able to feed business to other trainers.
I'm now established, in a city where I can actually charge a bit more for my services, and making a steady 6-figures a year. Oh!...and I now take weekends completely off to spend with my wife.
But I'm also at the point where I'm feeling content again. And also looking for a change. This was mostly lead by the pandemic's shut-downs where I had to come up with an alternative source of income. It was then that I started Online Coaching. It was such a nice source of income, that I kept doing it after we were able to reopen and go back to work (it was actually the addition of the Online Coaching that boosted me from a steady low-to-mid 90k per year to steadily making 6-figures).
Which leads me to why I'm here. I am looking to forward to flip the switch. Right now, I would say that my income is 80% in-person training and 20% online coaching. I'd eventually like to get it the other way around while making the same, if not more, in annual income. It is now what I'm finding myself passionate about. Passionate about the life that comes along with it. Especially now that I'm in my 50s and looking towards the future and how I want to spend my time. Because the one thing I'm feeling mostly is that time is invaluable. And I want to make the most of mine as I enter the back part of my life.
I'm here to learn in every way possible. So I'm starting from the beginning. I just ordered "The
Millionaire Fastlane
" and will go through that as well as the other two books recommended, as well as making my way through the Gold and Notable threads. Eventually, maybe I'll be able to even contribute. But right now, I'm very much looking to learn. And make some connections.
Thank you for accepting me into the group.