Silver Contributor
Read Millionaire Fastlane
Speedway Pass
Dec 30, 2016
225
783
294
22
Good morning from the sweat hole that is North Carolina!
(It's
f*ckING 80 DEGREES
IN FEBRUARY!!!)
Last night I was studying my Udemy course for HTML5 and CSS, then I noticed something. ON Udemy you can have simple Q&A's as the lessons progress and fellow students can answer and question one another. The problems that I see popping up the most are these two simple things.
1.)
Why can't I do this?

2.)
This isn't simple enough!!!

My response: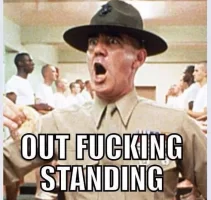 Where laziness rests, a chance for money will follow. I recreated the Udemy course but made it so incredibly simple (A caveman could do it). And specifically said "Use this coding lesson and create whatever you'd like" Lazy, Free and paying me (Spitting rhymes)
I've already had 23 purchases (23.00 $ profit)
Praise God for the lazy, natural state of the brain. Use this to your advantage lads!
Cheers!- Grayson. J​
Don't like ads? Remove them while supporting the forum. Subscribe.