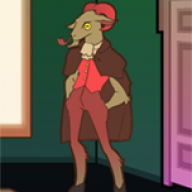 Half Man ; Half Goat
Read Fastlane!
Read Unscripted!
I came here with a 'I have nothing to lose and everything to gain' mindset.
About a month ago I became 21 years old. Over the past 3 years I went to 3 different colleges (I live in Belgium so college is cheap) where I tried to follow my passions because people told me things like "You must do what you love!" and "Follow your passion!" which, as you all probably know, totally belongs to the list of 'top 5 lies over the past century'.
I have studied (and completed) 1 year of Gameplay Programming. During that year I was the perfect student. I would have been the perfect employee and servant. The course required a lot of work. At the end of the year, with a big relief, I passed it. Then summer had finally arrived, me and some friends went on a week-long vacation. There was a guy in our group that I barely knew (friend from a friend), and as if by faith, one night, we ended up having to walk a long distance through some fields, in the middle of the night. As cliché as it sounds, the night was beautiful. There were no clouds and an incredible amount of stars were visible. It was during that walk that I had the deepest conversation of my life. I started asking things such as "What am I doing? I am spending years of my life working my a$$ off, so that afterwards MAYBE a company would hire me. And after getting hired I would be working my a$$ off even more to fill some greedy AAA game development company's pocket. And for what? Over the past year, I had to force myself on 'doing the thing I love' so hard that I no longer loved doing it."
Long story short. When I came home, I quit school. Got depressed because => No purpose.
Joined an easy software programming school. Spent that entire year partying and drinking. Sadly I came to the hard realisation even binge drinking becomes boring and stale really quickly.
Then I read the
millionaire fastlane
. I was intrigued, but I had somehow completely convinced myself that I was an artist that had simply not yet discovered himself.
So I joined an art school.
That turned out to be a bad idea. I quit that, then started working as a shop assistant for a major super market (Lidl, Schwartz Gruppe) for 4 months.
I almost finished reading
Unscripted
.
Started making plans to move abroad and start a business there.
Now I am here. (Haven't moved yet, that's happening in 2 weeks)
Me. Me. Me. Me. Me. Me.
That was enough about myself. I am here to give (and also take
) value. On the other hand, I am going to end the introduction with one cool thing/story that only was possible thanks to The
Millionaire Fastlane
.
You see, when you work as a shop assistant for a huge super market, you will notice one big thing. Your fellow employees are super annoyed by the customers. They might be finishing some work so that afterwards they can finally go home when suddently a load of customers starts asking questions about where to find product X,Y,Z in the store and why certain product prices aren't correctly marked because they should be off sale. Thus, their dreams of going home get delayed. Customers can ask some really annoying and dumb questions, and those will almost always be followed by annoyed and grumpy answers.
I started noticing this phenomenon in all the major super markets. So I started using SUCS (Super Unexpected Customer Service). I focussed most of my energy on being kind and listening carefully when a customer had a question or a request. Whatever it was, I wanted to make sure that the customer always left the conversation satisfied. (Which of course is not always possible, but I'm sure you get the point.)
After a few days, the customers who visited frequently started to smile at me when I passed by and they became very respectful towards me. And -here's the catch-, every now and then when I was helping someone, afterwards, they would push a 5 euro bill into my hands and say things like "Here, you are always so helpful, buy yourself a good lunch meal with it."
I could not believe it when it happened the first time. That was more than half I earned per hour. And that was for simply helping a person a few minutes.
It was awesome and satisfying, pure and simple. Whatever I did during college didn't even come close to the feeling that gave me.
So that was that. I know it's quite a long text, and I'm not sure if anyone will get so far to even read this part. But hey! If you do, thanks, and nice to meet you.