Administrator
Staff member
EPIC CONTRIBUTOR
FASTLANE INSIDER
Read Millionaire Fastlane
I've Read UNSCRIPTED
Summit Attendee
Speedway Pass
Jul 23, 2007
30,372
110,191
3,751
Introducing a new promotion option for those of you who'd like to "pin" a link (or a thread) to the top of the forum for a period of time...
The current link that is "pinned" is Wealth Exposed and has been for several weeks.
Simply click the icon highlighted (looks like a cake) to purchased a pinned link.
Cost is $10 per day, ala carte style. Why ten bucks? I figured a pinned link with a good headline is worth about 100 clicks a day ... so 10
cents
a click. Do 1 day, 3, or any number of days. Threads can be pinned, or an external off-forum link, from a YouTube channel, to some type of landing page offer.
All pinned items will need to be approved by myself to ensure it is a quality link, and not some MLM or lame affiliate offer.
These slots are first come, first serve and are LIMITED to 3.
Please allow up to 24 hours for approval.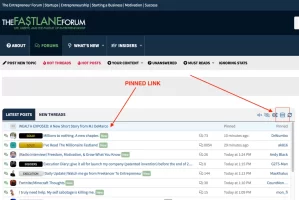 Don't like ads? Remove them while supporting the forum. Subscribe.