Administrator
Staff member
EPIC CONTRIBUTOR
FASTLANE INSIDER
Read Millionaire Fastlane
I've Read UNSCRIPTED
Summit Attendee
Speedway Pass
Jul 23, 2007
31,664
119,109
3,751
Finally!
I just launched a short story on Kindle (FREE if you have Kindle Unlimited)! After several weeks of modifications, I put my short-story up on Kindle. You might be familiar with it -- it is the heavily modified (and extended) version of the argument I overheard as a limousine driver. (This Kindle version is 4 times longer with 4 times the smackdown!)
Here is the synopsis:
Can a short 18-minute conversation I overheard from a millionaire make you a fortune? ​
​
It did for me. ​
​
And it can do the same for you. ​
​
Go back to 1996 and eavesdrop on the tense 18-minute argument I unwittingly heard. An altercation between two friends. One living a dream. The other faking it. Listen in on the powerful conversation that changed the trajectory of my life and ultimately made me a millionaire— many times over. ​
​
Delivered in a raw narrative form, step into my shoes as a depressed limousine driver and five-time failed entrepreneur. Witness the argument as I did, an argument that exposed wealth's guiding first-principles. An poignant story of sacrifice, immutable regret, and life-changing insight... a transcendent tale relevant in an year, any economy, or any country.​
​
Discover the right questions and you'll discover the right answers— answers that will set you free.​
​
Based on a true story.​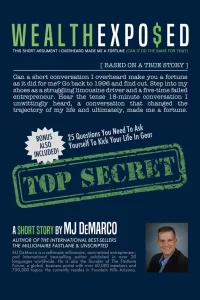 Again, it is based on the conversation I overheard while employed as a limousine driver. If you already downloaded the similar story I offered here for FREE, this public version is a bit more elaborate and about 4X the length. After the conclusion of the story (it's about a 20 minute read) there are 25 questions to ponder, questions to help you *THINK* about your life (and business) going forward!
If you have KU, would appreciate some downloads!
Wealth Exposed: This Short Argument I Overheard Made Me A Fortune... Can It Do The Same For You? - Kindle edition by DeMarco, MJ. Download it once and read it on your Kindle device, PC, phones or tablets. Use features like bookmarks, note taking and highlighting while reading Wealth Exposed...
If you are not a member of KU and want to join to receive the book for FREE, here is the link to join (affiliatized via forum system)
Audiobook now available:
https://www.amazon.com/dp/B088WR5VM4/?tag=tff-amazonparser-20
On the execution front, I'm hoping this story serves as a bit of an introduction to my work to new readers in the KU eco-system. In the future, it also can serve as what marketers refer to as a "lead magnet". In the back matter, it includes both
TMF
and
Unscripted
previews. If the reader does not have KU, the price for the short book is $1.29, the price of a 3 minute song downloaded on iTunes.
Enjoy!!
PS: Makes GREAT reading while in QUARANTINE!!!!
Don't like ads? Remove them while supporting the forum. Subscribe.
Last edited: