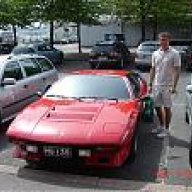 Gold Contributor
Speedway Pass
Good article from Seth Godin's blog about what it takes today to work hard and how it is different from a few decades ago.
http://sethgodin.typepad.com/seths_blog/2007/09/labor-day.html
I once heard a semi-joke that one must try really hard to climb up the ladder to the position of power, because the higher you go, the smaller amount of work you have to do is. Ideally I would love to have a position where I need to make a few big decisions a week and have people under me that will work out the small things. Where can a person find something like that?