Silver Contributor
FASTLANE INSIDER
Summit Attendee
Speedway Pass
Are you asking your customers for feedback? You should be.
You need to know if your customers are happy. To do that, you need to give them an outlet for them to let you know how they feel.
A good time to do this is after they receive something from you.
If you're selling products, send them a survey after they get the product. In our case (tech support), when we resolve a ticket they get an email with a survey link.
Back to the title:
You start sending these survey links. Nobody's clicking it.
We were getting less than 1% response rate.
Abysmal.
I used one simple trick to increase our response rate from 1% to ~15%.
Here's what our emails used to look like:
Who's going to see that? Have you ever looked over someone's shoulder as they go thru emails? This thing hits the trash can faster than rotten milk. If they click it, they probably don't complete it anyway because it's too long.
You need to 1. catch their eye and 2. make it EASY.
Here's what our emails look like now: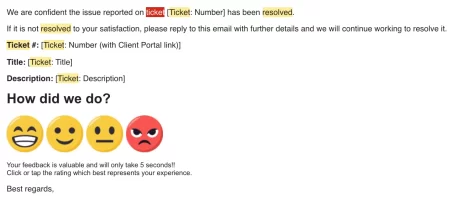 We use Customer Thermometer (no affiliation). Another one is SmileBack.
When they click a face, their rating submits automatically. It takes them to a page that allows them to add notes if they want. Notice it is just 1 question. It DEFINITELY isn't multi-page.
By default the images were way smaller. I added custom emoji images and made them massive.
Other notes:
I expected every review to be negative. You know the saying, people only speak up when they're upset. It was the exact opposite. Less than 3% of responses are negative.
Because they are so positive, we decided to display our ratings live on our website. How's that for transparency:
Our PSA feeds variables about our customer into the app so we can track who it is, which employee they worked with, and the ticket number.
Perhaps adding an anonymous option would get us more negative feedback? I prefer negative because it helps us improve our service. I know we're not perfect, who is?
That's it. No lambos. Just a bit of actionable advice.
-Roman