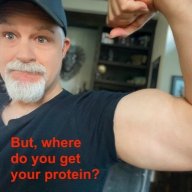 I followed the science; all I found was money.
Staff member
FASTLANE INSIDER
EPIC CONTRIBUTOR
Read Rat-Race Escape!
Read Fastlane!
Read Unscripted!
Summit Attendee
Speedway Pass
User Power
Value/Post Ratio
418%
Jul 23, 2007
35,868
150,052
Asked on Quora which I answered...
https://www.quora.com/How-can-I-create-massive-monetary-success-in-five-years/answer/MJ-DeMarco-1
Create yourself a mathematical equation that scales, then work that equation to death while acting, assessing, and adjusting along the way.
Few people understand that all of our actions and career decisions implicitly tie us into an equation.
This equation can be relatively simple or extremely complex.
At the end of the day, it will be your self-directed
EQUATION
that determines how much wealth you can (or cannot) accumulate.
Equations that scale make their owners rich.
Equations that do not, make their owners slaves to the system of "trading time for money."
The beauty of this equation is that
you can control
its basic variable parameters. But most people DO NOT because most people don't even know this equation exists!
If you decide to get a job at McDonalds and are paid $12/hour — congratulations, you just created yourself an equation to which you are now bound to:
Monetary Wealth = (rate of pay) x (hours worked)​
If you work 30 hours, your equation is 12 X 30, which equals $360.
If you go to college and accumulate $140K in debt so you can have the privilege of earning $40K/year, congratulations,
that's your new equation.
Monetary Wealth = (hourly salary) X (years worked)​
To complicate the mix, you are then suggested to save your money and give it to Wall Street.
There you get another equation:
Monetary Wealth = Market investments X annual ROI​
This mainstream advice is the standard prescription for mediocrity.
And it's clearly not a method to create monetary success in less than 10 years, much less 5.
As you can see, the problem with "trading your time for money" or "Wall-Street" as a conduit to wealth is that the variables are extremely
limited
and
uncontrollable
. You cannot work 3,000 hours at McDonalds in one week. You cannot force McDonalds to pay you $1,000 per hour. You cannot ask Wall Street to give you a 4000% return.
There are only so many hours in a day, and years in a life.
And herein
lies the lie
behind college: Young people are told to go to college so they can increase their PER HOUR rate from $12 to, say, $25 or $30. Or if they go into more technical fields (STEM stuff) they get away from hourly to annual pay. Now instead of making $50/hour, they make $50,000/year.
The problem remains.
TIME CANNOT BE SCALED.
You cannot work 1000 hours in day.
You cannot live to be 500 years old.
You cannot ask Wall Street to give you a 4000% return in one year.
You cannot ask your employer to give you a raise from 50K/year, to $500K.
Your hands are tied because the equation you've given yourself SUCKS.
Instead of trying to scale time (more debt to earn a better education to earn a better paying job under an annual salary regime)
start scaling units— units separate from your time.
This means you become a
creator of relative value.
Creators produce products, services, books, information, inventions, it doesn't matter so as long as:
A) Your creation can eventually become separate from your time.
B) You can scale your creation to a level that can change your life.
The other metric is
relative value
.
Sure your blog full of fitness tips my be valuable— but it isn't relatively valuable because the web is filled with 'em.
Whatever you create, it must be relatively valuable in the global pool of options. This doesn't mean you have to be the next Steve Jobs — it just means to skew value on one or two attributes; faster shipping, improved operation, better logistics, better service, better UI, better this, better that.
Entrepreneurship is about improving, more so than inventing the next hot thing.
So let's assume you invent a cool new widget that appeals to women who are mothers.
Your equation now becomes:
Wealth = Widget Profit X Widgets Sold.​
This is where things change.
Now you can SCALE a part of your equation. There are billions of mothers on the planet. Additionally, you control your widget operations and can fiddle with pricing, sourcing, and other operations integral to your widget.
So if you sell 100,000 widgets at $5 profit each, you just earned $500,000.
If a IG influencer raves about your product in IG and you get a rush of traffic for 1 week, selling 4,000 units, you make $20K in week.
Your ceiling for wealth can be influenced by your execution, marketing, and decision-making. You cannot do this under a "time trade" regime.
This is how you create wealth beyond the BS preached in the mainstream (get a job, save your money, invest with Wall Street for 50 years blah blah)
Of course I'm not suggesting this is easy.
The key is to change the equation, change the probability, and change your potential outcomes. Nothing is easy, but neither is getting up at 6AM, fighting traffic for 50 years, and retiring with a gold watch on 50% of your income.
Just to give you an example, how this works in real life, I've been "off the clock" for over 20 years. That means I earn money 24 hours a day, 7 days a week because my income and net worth is tied to
UNITS
, not
HOURS
or
TIME
. This is how can effectively call myself "semi-retired".
I'm a best selling author [
The Millionaire Fastlane
] and [
Unscripted
] (published in over 15+ countries/languages) so part of my "equation" is how many books that sell worldwide.
And when you move to a "unit" metric, your markets expand beyond your local city — so what not appeal locally, might appeal globally. For instance, my second book
Unscripted
is a the #1 best-selling business book in South Korea (at least that's why my publisher is telling me) but barely known in the states.
I also run a global community on entrepreneurship [
The Fastlane Entrepreneur Forum
] which operates 24 hours a day. A 24 hour operation means I earn 24 hours a day. I could go on and on with the other ventures but hopefully you get the point…
So are you ready?
Here's my SIMPLIFIED equation for wealth currently. (Actually it's much larger but I think you get the picture.)

(bup)(bs1)(bc1) + (bup)(bs1)(bc2) + (bup)(bs1)(bc3) + (bup)(bs1)(bc1) +(bup)(bs1)(bc4) + (bup)(bs1)(bc5) + (bup)(bs1)(bc6) + (bup)(bs1)(bc7) +(bup)(bs1)(bc8) + (bup)(bs1)(bc9) + (bup)(bs1)(bc10) + (bup)(bs1)(bc11) +(roy1)(bs1) + (roy2)(bs1) + (roy3)(bs1) + (roy5)(bs1) + (roy6)(bs1) + (roy7)(bs1) + (roy8)(bs1) + (roy9)(bs1) + (roy10)(bs1) + (roy11)(bs1) + (roy12)(bs1) + (roy2)(bs2) + (roy2)(bs2) + (roy2)(bs2) + (bup)(bs2)(bc1) + (bup)(bs2)(bc3) + (bup)(bs4)(bc2) + (bup)(bs5)(bc2) + (bup)(bs2)(bc6) + (bup)(bs2)(bc2) + (bup)(bs2)(bc2) + (bup)(bs2)(bc10) + (bup)(bs2)(bc2) + (wt)(webconv)(ad1) + (wt)(webconv)(ad2) + (wt)(webconv)(ad3) + (webtraffic)(insconv)(insfee) + (inv1)(roi1) + (inv2)(roi2) + (inv3)(roi3)+(inv4)(roi4) +(inv4)(roi5) + (inv5)(roi4) + (inv5)(roi5) + (inv5)(roi5) + (inv6)(roi6) + (res)(avg-app) + val(biz1)(pe) + val(biz2)(pe) + val(biz3)(pe) + altcoins(value) + altcoins(value) + altcoins(value) + altcoins(value) + btc(value) + eth(value) + …​
Most of those variables listed above I can
CONTROL
and
SCALE
.
1) Create relative value.

2) Recognize your equation.

3) Work the equation.

4) Act — Assess — Adjust

5) Repeat​
That my friend is how you create monetary wealth within 5 years.