Limitless
Read Fastlane!
Read Unscripted!
Speedway Pass
User Power
Value/Post Ratio
432%
Nov 14, 2011
2,486
10,740
This thread is written thanks to
@Vigilante
for sharing his story on his radio show the other week.
How much does a Lamborghini really cost?

The 2015 price tag according to
Car and Driver
is $400,995. Great! Let me go down to the ATM and make a withdrawal.
What if I'm being serious? What if you actually do have $400,995 in disposable income to drive down to the Lamborghini dealership right now and actually buy this car?
How did that money get in your bank account to begin with?
You just sold your internet business to a hedge fund.

Ahh, the day every aspiring internet entrepreneur has been waiting for. It all started with an idea, and a desire to make a lot of money, and this is where it led you: A series of checks written fora grand total of $23,850,150 and deposited into your bank account.
Imagine the look on the bank teller's face when you go to deposit those checks.
Can you
not
do anything except stare back at her with a goofy smile of bliss that stretches ear to ear, almost plastered on your face.
Your face turning red from the excitement of accomplishing the unaccomplishable.
Do you ever think about what you're going to do next?
I mean, you have the money, you have the cars, and you have the freedom.
I actually don't know what I'd do. I'd probably drive the car to get some pizza, hoping nobody scratches the car in the parking lot, before I go home and go to sleep.
I could travel the world, but then my Lamborghini would be sitting in the garage for an entire year.
Do I even want the car anymore, now that I could afford to have it?
These are all good questions, but there is still one question left unanswered...
What does all of this actually cost?
That money didn't come from nowhere.
November 14th, 2011
- I decided I wanted to become a millionaire.
At the beginning, it all starts with a dream. A dream of a better life, with the inspiration and motivation to get started.
Didn't it seem just so...easy, when you were first getting started?
Code that website, and make millions of dollars.
Create that app, and watch the money roll in.
Build that empire....but without putting in the world to actually get there.
The work? The frustration? The pain? The sacrifices?
No...you got me all wrong, that's not part of my plan. I want the Lamborghini, I don't want pain or frustration. Who would want any of that?
I had no clue what I was doing in the beginning, but I didn't let that stop me.
This is where you want to give up, but
what happens if you keep pushing forward?
I spent four months teaching myself how to code: HTML, CSS, Javascript, SQL, PHP.
My website was coded and the money didn't roll in.
During those 4 months, I stayed up well past the sunrise, gained 30 pounds because my diet consisted of fast food and cheetos to numb the pain of getting no results.
I didn't leave my house except to go to the store and buy food, I went on one date and the girl was creeped out because I lost most of my social skills coding in front of a computer for 20 hours a day.
I began suffering from sleep paralysis, where I would wake up, and not be able to move for a few minutes while half my my mind is still in dream world (my eyes were open, but I was still in a dream).
20 hours a day...in front of a computer.
Nobody signed up, and I just spent 4 months of my life building something nobody wanted.
Four months, 20 hours a day...not a single dollar. Not a single user
.
This is where you want to give up, but
what happens if you keep pushing forward?
Down to $250 in my bank account and on the edge of breaking, I needed a change.
I drove 2,000 miles across the country to Scottsdale, Arizona because I read about a lot of millionaires living there.
The mentorship I was expecting to be handed to me was replaced by the 5 a.m. shift at a customer service job that I hated.
At the end of work everyday, I loaded my self up with pre-workout energy supplements, killed it at the gym, until I went home and passed out on my bed until 3 in the morning, only to repeat the cycle again.
While my friends went out on the weekends, I read books on marketing and business.
I stayed in for 2 years in a row for virtually every weekend...
while my friends were getting drunk, partying, going to music festivals, and going to Vegas or San Diego to have fun in the moment.
I worked 7 days a week for 2 years straight..without getting paid a dime for most of it.
After 18 months,
I made my first dollar online.
I made a few thousand dollars in the upcoming months, only to see that slowly fade away, until I was back to making nothing.
Yes, still working on the weekends for "free".

This is where you want to give up, but
what happens if you keep pushing forward?
I then proceeded to dump my entire savings into advertising for my business, and lost it all.
One month, I had $14 in my bank account after my rent check just cleared.
I kept pushing forward...

This is where you want to give up, but
what happens if you keep pushing forward?
In 2013, I then decided to chase the money, and the hot thing was promoting "less-than-perfect" affiliate products on sites that will not be mentioned here.
I lost all my money again, and barely made rent this time.
And my Facebook advertising account got banned as a result of this.
This is where you want to give up, but
what happens if
you keep pushing forward
?
Ok, so my money is gone, my friends have left me behind, I have no advertising account anymore, and I've failed multiple times for two years straight.
I get a promotion at my day job to the corporate office, and decide to build some apps in my spare time.
Still exhausted after my even longer work days at the corporate office,
I spend 4 hours each night and every weekend building my app business
.
My apps get rejected...
This is where you want to give up, but
what happens if you
keep pushing forward
?
I keep pushing forward. My apps were rejected 16 times in a row for five months straight.
This is where you want to give up, but
what happens if you
keep pushing forward
?
I kept pushing forward, my apps were approved,
I made $10,000 in one month
a couple of months later, quit my job, and then spent 6 months partying and traveling the country.
Oh, when I quit my job, it was right after I was offered a six-figure per year promotion. Most people would jump on it, but I quit....what's the
best
that could happen?
I was celebrating my success,
I was living off of passive income,
and I was on top of the world.
But what happens when you're at the top of the world?
The only direction you can go is DOWN.
My apps lost their rankings,
I lost everything I built up on Christmas day 2014.
So here I am, at the age of 28, I'm forced to live in my parents house while my (old) friends are there collecting their steady paycheck every week, partying on their nights and weekends, spending all their money on weekend road trips.
This is where you want to give up, but
what happens if you
keep pushing forward
?
I hunkered down, kept pushing forward, and finally fixed my business....and moved back across the country to put the grim reminder of where this all started, and those sleep-paralysis nights behind me.
In 2014, I began making $100+ per day.
In 2015, I crossed the threshold and made over $1,650 in one day (at my best day so far).
October 2015:
Here is an excerpt out of my book that I'm writing, about
The Journey
....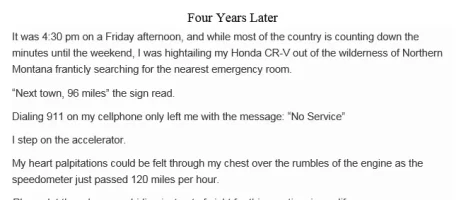 and a few paragraphs later....


So what caused all of this and me to rush to the emergency room at 2 in the morning, only to be told that they didn't accept my health insurance?

I don't want to spoil the book, but
it's a direct result of the journey I chose to take towards that goal
, and a result of choosing a way of life most people give up on.

How much does a Lamborghini cost?
Sacrificed my nights and weekends,
and friends,
Put all my money into my business, and lost it all multiple times,
Had to live with my parents in 2014 at the age of 28 when I let it all crash the first time,
Began experiencing heart palpitations for a month straight, constant bloodshot eyes from staring at a computer screen all day,
Creating a business that has impacted over 900,000 people to day (yes, there's some positive to it..and the TRUE cost is helping lots of other people..but that's saved for a different post).
My journey is probably a lot easier than a lot of other people who have "made it" to their destination.
It's filled with highs, and most people never talk about the lows, but they are always there.
So the next time you ask yourself "How much does a Lamborghini cost?" and how can I afford one?

You now have your answer...The question now is, do you even still want it?