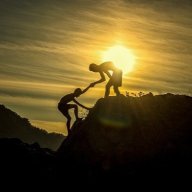 Bronze Contributor
Speedway Pass
Do you use any methods/processes to prioritize?

The issue is complex as it is often twofold:

1. small short-term gains VS big long-term gains
2. certainty VS uncertainty

Hypothetically...

Let's say Mr. D. works as a freelance writer while building a fastlane venture.

Mister D. could scale his writing activity to max $5k/month working 10h/week instead $2k now working 40h/week. It's not much, but it's guaranteed money.

Meanwhile Mr. D.'s fastlane venture could make him millions in 3-5 years, but whether his venture will work or not is completely uncertain.

Mr. D. does not know if he should entirely focus on his fastlane venture and risk failing, entirely focus on his writing gig and scale it, or keep on doing both halfway hoping writing will sustain him until the fastlane venture works.

What should Mister D. do?

PS: I already asked chatgpt....
PPS: I welcome all answers, even the ones saying Mr. D. should quit writing and get a job instead, or change his fastlane venture to something more certain, etc.

Thx!